LG V20 Review
Camera
An advanced and sophisticated setup will have photography enthusiasts intrigued. Image quality is top-notch!
Dual camera smartphones have been around for a while, but they've never been as popular as they are today. Few people know, however, that not all dual cameras work the same way. In the case with the LG
V20
, we have a standard, 16MP camera complemented by an 8MP camera with an extremely wide-angle lens. While most of the time you'll be using the former, the latter comes in handy in situations when your subject doesn't fit in the frame – when taking group shots, for example, or when photographing large monuments. And to give you an idea of how wide this lens is, my colleague Victor, who is around 6 feet 2 inches (188cm) tall, fits in the photo from a distance of about 3 feet (91cm). Impressive!
Now, you might be wondering why one wouldn't stick to using this wider camera every time. Unfortunately, its 135-degree wide-angle lens adds noticeable barrel distortion around the edges of the photo – much like an action camera would, albeit to a lesser extent. Also, its narrower aperture (F2.4) and lack of optical stabilization mean that it can't perform as well as the main camera (F1.8) in low-light situations.
Camera interface
The camera app found on the LG V20 does not differ much from what we've seen in recent LG handsets. By default, you're taken to Auto mode, which is simple enough for the great majority of users to handle. Yet if you want to take your photography up a notch, you may enable the object tracking feature from the Settings menu. I did and I found it quite useful in many cases, as it locks and keeps the focus at a certain object in your frame. That's how I took the photo of Mr Cat (sample 6 in the gallery below) who just wouldn't sit still. HDR is also nice to have on Auto – take a look at samples 1, 2, and 5 to get an idea of how that mode performs.
Manual controls are also available when shooting video, but I see no good reason why an average Joe would ever need them. On the other hand, experienced content creators may find the option practical, as it lets them set the focus, white balance, and ISO as they wish. Higher quality video and audio modes are also available. While the difference they make is slight, they could be useful if the creator intends to edit the footage later.
Image quality
Just like the V10 and the G5, the LG V20 takes outstanding photos – both during the day and at nighttime. It isn't quite perfect, but I can confidently say that it delivers great results in 9 out of 10 situations.
If I had to describe the V20's camera in a single word, that would be "fidelity". In automatic mode, it would not sugarcoat images as some other cameras tend to. It doesn't add excessive amounts of contrast or saturation to the photo, and it keeps the sharpness at a reasonable level. As a result, photographs are natural, delivering a very close representation of reality. In scenes 5 and 8, for example, the camera has managed to capture the warm tone of the setting sun. In photo 19, the car's red paint looks vivid, but not overblown, while photos 1, 2, and 3 have a gloomy look because, well, that's how things look on a cloudy day.
Photos 25 through 34 were all taken indoors, thus demonstrating that the V20 excels in low-light and artificially lit environments as well. Colors and details are still great despite the slower shutter speeds and higher sensitivity settings used by the camera.
But as I mentioned above, the V20's camera isn't perfect. For example, in samples 35 through 38 you can see that it failed to set the correct white balance, thus producing images that are too cold or too warm. This seems to happen when there are different light sources in the frame – the blueish sky and the reddish street lights, in this case.
From samples 9 through 24 you can get an idea of how wide the secondary camera on the V20's back actually is. Note that the pairs of images were taken from the same distance away from the subject. Despite the barrel distortion, I find the wide-angle camera nice having. I don't use it daily, but it has proven itself useful in a number of situations throughout my testing. Still, I must reiterate that in low-light situations, the wide-angle snapper takes noisier photos due to its technical limitations, although it is generally usable.
LG V20 sample images
Video quality
Videos taken with the LG V20 look fine, although results may vary depending on the camera's settings. The 1080p video mode is set by default as it is the most practical – it produces high-quality video without eating up too much storage space. What's more, it takes advantage of both optical image stabilization and Steady Record 2.0, the latter being a software image stabilizing algorithm. As a result, the footage is smooth and steady, although it could come out slightly jittery if you're walking while shooting. No less importantly, sound is captured loudly and clearly thanks to the V20's advanced microphone setup.
In 4K resolution mode, SR2.0 is unavailable, which is probably why the video suffers from a slight jello effect caused by the OIS system. Still, the footage is noticeably sharper, which makes it great for both viewing and editing.
I must note that the wide-angle camera can also shoot video at up to 4K resolution. However, there's noticeably more distortion in the footage, which is to be expected given the camera's narrower aperture and lower resolution. At 8MP, the camera just doesn't have enough megapixels to fill a 3860 x 2160-
pixel
frame without digitally "stretching" the image.
LG V20 Sample Videos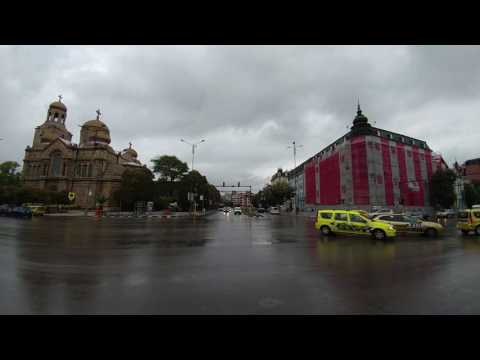 Selfie camera
I've decided to dedicate a couple of paragraphs to the LG V20's front-facing cam, as it is quite unusual. And I mean it in a good way. Its wide-angle optics give it a 120-degree viewing angle, meaning that you can fit yourself and a whole bunch of people in the shot. But the distortion associated with wide-angle cameras is also present here, so do have that in mind while snapping selfies. When the wide-angle view is not necessary, I'd advise you to switch to normal mode, which zooms in on the user for a more natural shot. On a related note, I noticed that during video chats (via Viber, Facebook, etc.), my only option was to use the wide-angle mode of the camera, meaning that I didn't look quite natural on the other side.
The quality of the V20's selfies is not outstanding, but it is decent overall. With 5MP of resolution and an aperture of F1.9, the camera captures enough detail and accurate colors under optimal conditions. HDR is available for those tricky scenes and it works pretty well. In low light, the selfie camera is also usable, although being still becomes an important requirement if you want your picture to turn out clear. In these cases, you may enable a "flash" – basically, the whole screen lights up to provide illumination.
LG V20 selfie samples
Multimedia
Excels at both audio reproduction and recording.
There's a single loudspeaker placed at the LG V20's bottom
edge
. All in all, it gets the job done – audio coming out of it is sufficiently loud and clear, and while I don't see myself listening to music through it, YouTube videos sound just fine.
What sounds a lot more exciting is the so-called "Quad DAC" inside the V20, based on an ESS SABRE ES9218 chip. For those not familiar with the matter, a DAC is a module converting digital audio into an audible analog signal, the latter being what's sent to a pair of headphones via the 3.5mm jack. And the audio chip inside the LG V20 has four DACs working in parallel, which results in extremely low noise and distortion levels. Furthermore, the built-in audio amplifier has the power to drive high impedance headphones.
In addition to being a powerful audio player, the LG V20 excels at audio recording. The phone packs a set of three high acoustic overload point microphones, meaning that it can record sounds of up to 132dB without clipping. That's why there's no crackling in videos recorded in a club or at a concert. Overall, sound recordings are clear, realistic, and free of noise. Whether you want to capture the ambiance of a noisy street, the sound of crickets at night, or a lecture at school, the V20 is going to do a really good job at it.
On the software side, a professional-grade sound-recording app comes pre-loaded. While the default interface is clean and simple, advanced controls give the user control over the microphone gain, a limiter, and a high-pass filter. Audio can be recorded in a lossless format and studio-level quality for excellent results.