LG G5 vs Apple iPhone 6s Plus
17
Camera
The Dual camera of the G5 intros wide-angle shooting, but has its tradeoffs in low light against the 6s Plus
On the G5, LG uses a unique dual camera setup that employs two lens modules – one with a 16 MP, and one with an 8 MP sensor, against the
iPhone 6s Plus
12 MP cam with optical stabilization. Up front, we're still dealing with an 8-megapixel selfie snapper, while the iPhone employs a 5 MP shooter there.
pixel
size, but wide, f/1.8 lens and optical stabilization—the same package available with the LG G4. The extra 8-megapixel unit, however, comes with extremely wide field of view – 135°, or more than that of the human eye.
The camera software of the phone lets you switch between the two sensors with a single tap, the idea being that you'd use the two cameras for different compositions. The secondary sensor allows you to capture scenes that you'd otherwise have to use the panorama option for. Being so wide, however, the lens don't deliver perfect stills, as there's a noticeable, fisheye-like distortion towards the edges, though not as strong as to make us hate this mode.
On the camera app side, the G5 sports a clean, outlined iconography, yet gives you a full manual mode, and funky regimes like Snap (Vine-like video capture mode where you can pause/start for up to a minute) and Popout (layers a shot from the main camera on top of a slightly transparent background from the wide-angled one). The iPhone sports a very neat and simple camera interface, too, covering all the basics like HDR or Panorama, and capturing the proverbial Live Photos animation with each shot seamlessly. Speaking of capturing, the 6s Plus is a bit faster to focus and take a snap.
When it comes to quality, we'd say that the phones are on par in good daylight. The G5 delivers very credible color presentation, which jibes well with what's really in front of the lens, while the iPhone goes slightly to the warmer side of the spectrum.
In low-light scenarios, the iPhone also delivered more uniform quality and less noise, while the G5 often produces hues that are too warm, or casts unpredictable color tones over the whole image, struggling with the proper white balance.
LG G5 vs Apple iPhone 6s Plus Camera Samples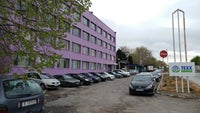 In terms of video, both phones can record 4K footage, as well as steady slow-
motion
ones, so in theory they are at the top of the mobile video game. The phones manage to record excellent clips in almost all situations, with good color presentation, but LG's software definitely inserts more digital noise in the frame. The imagery runs fairly steady, though not without frame skipping, which is more pronounced on the G5's footage. The phones managed to capture a great amount of detail, so not much to complain from on both devices when it comes to video footage.
Multimedia
The media apps on both phones do an equally fine job for basic tasks: browsing through photos, watching a video or playing music, but there are still contrasting points to be made for each. Тhe stock photo gallery on the G5 offers some quick editing options like cropping and basic effects, and that's about it. The built-in image editor in Apple's Photos, however, is more powerful, and does an excellent job at managing images. You also have Live Photos that are well integrated in the app.
For videos, LG's player has the upper hand when it comes to supported formats and extra features like adding subtitles, but Apple does more when it comes to editing, as usual. The iMovie app is an extremely capable video editor that handles multiple 4K videos without breaking a sweat, with effects, transitions, text and so on.
Then comes Apple's tune player that now integrates seamlessly with the Apple Music streaming service. This deep integration with the platform, huge catalog and great, curated playlists are definitely impressive. On the G5 you can get third-party apps like Spotify, which are also doing a great job, but they lack that deep dive within the system. The LG music player app auto-categorizes your songs, and has various equalizer presets that are accessible from within the app itself.