LG G3 vs Samsung Galaxy S5
Camera
Two impressive shooters, each with its own set of tricks. Faults aside, these are definitely part of the 2014 golden standard for smartphone cameras.
Starting off with LG's G3, we have a 13-megapixel, 1/3.06'' Sony IMX135 sensor with a narrower-than-average, f/
2.4
aperture. The G3's camera also boasts a powerful, two-tone LED flash, along with a novel, focus-assisting laser beam that allows for super-fast auto focus (under 0.3 seconds). The unit is also optically stabilized, and comes sporting LG's much improved (compared with the G2) OIS+ tech that is even more efficient at nullifying your hands' inherent tremor. The stabilizing gizmo should allow for lower shutter speed – important when shooting in low light scenarios without a flash - without the blur (due to handshake) that usually goes with it.
Samsung's flagship features just as an impressive a configuration, and its 16-megapixel, 1/2.6'' ISOCELL sensor produces very solid results in practice. It honestly is nothing to sneeze at, and, thanks to its phase focus system, it's just as quick to focus and snap (<0.3 seconds). The lens's f/2.2 aperture is also wider than that of the G3, though do keep in mind that the GS5 does lack optical image stabilization.
Looking at both phone's respective camera UIs, we're happy to see that LG's and Samsung's efforts at a more simplistic look are paying off. Once you have to start digging through the options and feature sets of the two, however, you're likely to appreciate LG's less-overwhelming approach more – smaller bits of information are shown at any one time, though they're scattered all over. In comparison, the full extent of the GS5's camera UI simply hijacks your screen with row after row of options.
Now that the technicalities and various nuances have been covered, lets talk image quality. As can be expected, this is a very tough match-up, and, overall, the two devices are neck-and-neck. So what do we mean by that? Well, simply put, essentials, such as exposure, are intelligently set by the underlying software algorithms behind either unit. In fact, when looked at separately, you'll likely agree that both the G3 and the S5 produce some truly attractive stills. They do.
Only when put next to each other, however, do we start to notice some discrepancies between the realities the two paint. Perhaps most importantly of all, the G3 often introduces a warm, yellowish tint to photos, which is clearly noticeable when you put its shots next to the shots the S5 churns out. Indeed, while the G3 produces a tad more attractive stills, it is the S5 that delivers color-accurate images that are true-to-life. Calling this a dramatic issue would be unwarranted, though. Nevertheless, this is an area that the GS5 handles better, even though it's not immune to errors, either.
Moving on, noise levels with both devices are excellent, and rarely make an ugly appearance. As for detail, that extra resolution on the GS5 sure is of help when looking at full-sized stills, but the advantage is honestly tiny, so don't expect to make out more fine information about objects with it.
Indoors, the G3 again produces warm shots, that, in decently-lit conditions, sometimes come out unnaturally pinkish, all the while the S5 keeps its cool and provides more realistic results. Once the lights go down (or completely), and the two have to rely on their flash, the S5 again proves just slightly ahead – its shots are still unrealistically cold, but they're just a smidgen more attractive than the overly pink snaps from the G3. On the other hand, the S5 introduces quite some noise in comparison, both in well and poorly-lit indoor scenarios, though the G3 achieves that at the expense of sharpness.
In the case of HDR snaps, both devices produce very attractive results, devoid of ghosting and other visual artifacts that plague poorly-executed HDR solutions. In terms of panaoramas' quality, both the G3 and S5 can shoot insanely-large panoramas, though the LG G3 is in a league of its own, producing huge panoramas, like the 69-megapixel one below. In comparison, the identical pano from the S5, which held the crown until now, is 'only' 33-megapixels large. The software of both phones stitches scenes together properly, and the end results offer amazing amounts of detail.
Sample images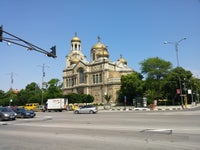 And lastly, video capture. This is another area in which the more realistic footage captured by the camcorder of Samsung's flagship ends up ahead the contrasty image produced by the G3's. Audio reproduction, while far from excellent on the GS5, is also superior to that with LG's new flagship. On the other hand, the G3's OIS gizmo allows for a more shake-free image. This applies to 4K video capture, too.
Multimedia
A 5.5-inch QHD screen and a powerful loudspeaker mean that the G3 is a very desirable multimedia hog. More so than the GS5 anyway.
A 5.5-inch, QHD IPS panel – that sounds quite impressive when talking image and general video reproduction – but the G3's advantage in a real world scenario is not quite as clear-cut. Sure, a 5.5-incher ensures a comfortable viewing area, but don't expect all these extra pixels (80% more, to be exact) the G3 has over the S5 to count for much. For one, content created specifically for that resolution is still exceedingly rare, not to mention that you'll generally watch videos and the likes from a distance far enough to nullify any advantages in sharpness that the extra resolution brings to the table. With that in mind, don't take this as a con for the G3 – it's anything but – simply keep in mind that this isn't going to be a major game-changer, at least for the time being.
If it weren't clear enough already, the S5's
5.1
-inch AMOLED display looks a tad modest in comparison. Nevertheless, it's still spacious enough to allow for comfortable viewing, and its 1080p resolution is, strictly speaking, more than enough in just about every scenario you may find yourself in.
In terms of the specific multimedia app stacks each brings to the table, it's fair to say that neither will disappoint even the more discerning among you. This is to say that essentials, such as the Gallery, Music and Video players, and the like, are all very well executed on either phone, and include extra functionality (like lyrics).
As for audio reproduction, both devices rely on a rear-placed loudspeaker to do the heavy lifting. Both implementations are loud (though the G3 is definitely louder), and offer acceptable sound quality – but nothing beyond that.