Huawei P9 Review
Call Quality and battery life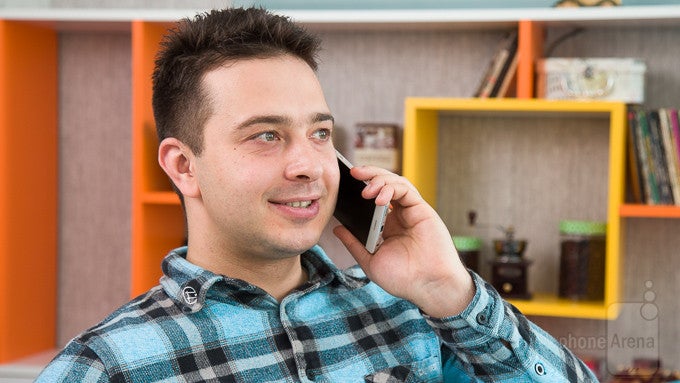 We have no complaints about the way the
Huawei P9
sounds during calls. The earpiece is sufficiently loud, and voices coming out of it are natural in tone. On the other side of the line we're easily understood, without having to repeat ourselves.
Battery-wise, our custom battery benchmark drained the Huawei P9's 3000mAh battery in less than 7 hours, which is an average result. It puts the phone ahead of rivals like the
Galaxy S7
and
LG G5
, at least in this respect, but leaves it far from the leaders on our endurance chart. We'd say that our benchmark result reflects the P9's day-to-day battery life, as we couldn't get through more than a day of regular usage. Actually, we're certain that heavy users will be reaching for a charger by the evening.
As far as charging goes, the
Huawei P9
charges more slowly than its high-end rivals. It goes from flat to full in over 2 hours, which is relatively slow. A quick, 30-minute boost gets its battery from empty to 33%, which is okay, but not impressive.
Conclusion
There's a steep price tag attached to the Huawei P9. In its basic configuration, the smartphone retails for $600 to $650, which means that buyers will be expecting to get tons of value in return.
All in all, Huawei's new flagship is a good smartphone. Not a ground-breaking one, but a good one nonetheless. Throughout our testing, we did not come across any major, deal-breaking flaws. The UI ran smoothly, the camera worked fine, and the screen, despite its inaccurate color reproduction, got the job done. But at the same time, there doesn't seem to be anything to make the Huawei P9 stand above the competition. True, its camera can snap pretty pictures once you get the hang of it, but it failed to meet the high expectations set by Huawei's marketing department.
Ultimately, is the Huawei P9 a worthy pick? Well, we did enjoy the time we spent in its company, but there's one thing we wish its maker could improve on – battery life. The phone is an average performer at best, as confirmed by our battery benchmark and real-life experience. Honestly, we we were expecting better results given the P9's price point.