Interface and functionality
EMUI 4.1 – this is the name of the custom software running on the
Huawei P9
. It is based on Android 6.0, but looks and feels nothing like it, having undergone a thorough visual and functional overhaul. All in all, the software is one of the things that you'll either love or hate about this smartphone. If you consider yourself a power user, if you are into knobs, switches, and dials, then the latest version of EMUI might be just your cup of tea. A more typical user, on the other hand, might find themselves overwhelmed by all the settings and features they're given access to, especially if they're never going to need them.
EMUI gives us plenty of freedom to customize the look and feel of the interface, which we have nothing against. We're given a selection of themes, various transition effects, and the option to switch to Simple mode, which gives you a clean, minimalist UI layout. An added bonus is the one-handed mode, accessible by swiping sideways over the on-screen buttons.
Another feature we're content with is the integration of the fingerprint scanner into the UI. For instance, it can be used to restrict access to certain applications and files. Also, swiping down on the scanner pulls down your notifications panel, which is neat. Moreover, a tap on the reader triggers the camera shutter, thus making it easier for us to snap selfies from extreme angles.
And there's even more to like about Huawei's software. For example, the built-in back-up solution could be useful one day, and the fitness assistant tracks our activity pretty accurately. All in all, EMUI 4.0 is a refinement over its previous iterations. It is still the feature-rich UI we know from other Huawei handsets, but with less getting in the user's way. If you're into simpler, minimalist solutions, however, you might need some time to get used to its peculiarities.
System performance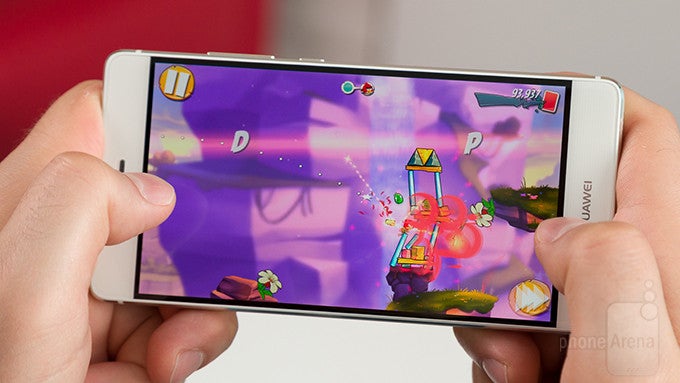 The brains of the Huawei P9 we're reviewing is an octa-core Kirin 955 SoC, paired with 3GB of RAM and 32GB of storage. We must make it clear that a 4GB/64GB model will be available as well, albeit at a much higher price. But even in its current configuration, the phone runs very smoothly through the interface. Lags and slowdowns are nearly non-existent, and even demanding 3D games run at high framerates. Sure, the chip lags behind in benchmark scores when compared to the Snapdragon 820, but it is still competent enough to handle whatever we throw at it in our day-to-day use.
As we mentioned, there will be a 64-gigabyte Huawei P9, but the model we're reviewing has 32GB of the stuff, with 25GB available to the user. That's plenty of space already, and in case you need extra for your photos and media, there's a microSD card slot at your disposal.
Internet and connectivity
Having decades of experience in wireless communications, Huawei has thrown some of its own tech into the P9. For instance, the triple cellular antenna configuration automatically adapts to the way you're holding the phone, thus optimizing reception strength. We find it odd, however, that the 64GB and the dual-SIM versions of the phone lack NFC.