Camera and image quality
The Leica-tuned camera setup remains the one true highlight of Huawei's flagship
At the rear of the
P10
we find the same Leica-tuned dual-camera setup that made the P9 the intriguing device it was. In terms of technicalities, the P10 comes with what Huawei calls Dual Camera 2.0, comprising a 20MP f/2.0 monochrome sensor that produces detailed images and a regular 12MP f/2.2 RGB module that shoots color. Just like the P9, the P10 merges the two images into one, combining the fine detail from the B&W module with the colors of the RGB sensor.
On the features and modes side, Huawei has included everything and the kitchen sink with the P10, and as a result, the camera app feels a bit overwhelming but at least it's intuitive. It has tons of features and options. Aside from the default Auto mode, you can also capture black-and-white images in Monochrome mode, take HDR pics, enhance skin and add tons of faux bokeh in Portrait mode, take noise-less images with Night Shot, unleash your creativity with Light Painting, capture time-lapses and slow-mo videos, and make your food Instagram-ready with the Good Food mode. Manual controls for the camera have also made the cut, which will appeal to photography enthusiasts. Aside from that, you can enable a separate wide aperture mode that simulates different depths of field and also adds tons of bokeh.
Enough with the boring theory, let's see how the P10 performs in the real world! First things first, it should be mentioned that you will only get 20MP pics if you shoot in Auto or Monochrome modes. With all other modes, you end up with 12MP stills. Of course, panoramas are an exception – the P10 captures very high-res panoramas, normally larger than 30MP.
As far as image quality goes, the P10 shoots excellent pictures. It produces well-exposed images with plenty of fine detail that easily passed our
pixel
-peeping tests with flying colors. There's not any oversharpening at all, just images with great amounts of detail. Speaking of colors, the rendition of these are mostly true to life though they sometimes end up on the oversaturated side of things, especially if you're shooting bright spring flowers. The P10 normally exposes scenes well and doesn't seem to underexpose things as much as the P9 did.
Huawei P10 sample images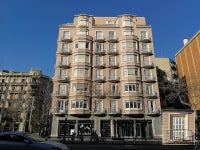 There's also a 2X hybrid zoom feature that lets you seamlessly zoom between the two cameras. It is not available when you shoot in 20MP auto mode, but can be used if you opt to shoot in a smaller resolution. It's wields neat results, but can't compare to a dedicated zoom camera module.
The rear's camera Portrait mode deserves its own paragraph. This one adds a bit of vignetting to draw attention on your face, smooths and brightens the skin, throws in some extra contrast, and finally, sprinkles lots of faux bokeh in the out-of-focus areas. Sounds great on paper, but said bokeh often gets applied over the subject's hair or leaves a halo of unprocessed background around the head. As a result, the person you're shooting often looks like they've been "photoshopped" in the picture later as the separation from the background is not seamless and ruins the picture. With good lighting, however, the P10's portrait mode wields perfectly acceptable pics. In general, I'd say that one in three photos taken with the P10's portrait mode looks great whereas the other two are unusable due to the excessive amounts of faux bokeh.
Front-facing camera
The 8MP auto-focusing front-facing camera is a decent one, too, with selfies turning out pretty detailed, well-exposed, and with appealing vibrant colors. However, they often tend to be on the colder side, which might not appeal to all selfie takers. The beautification feature turned out to be a pleasant surprise – it does its job pretty subtly and does not turn your face into a wax figure. Take note, LG and Samsung. The front-facing also has a Portrait mode, which has the same strengths and weaknesses as the rear cameras' one – it can produce a decent selfie, but watch out for that excessive bokeh!
On the video-recording front, the P10 records 4K video at 30fps and 1080p Full HD clips at 60fps. It's worth saying that you get a slew of manual controls in for video-recording either. As far as quality goes, the P10 produces some good-looking videos with plenty of detail and rich, appealing colors. Thanks to the OIS on board, no trembling is visible in the videos I recorded. The P10 also focuses quite fast thanks to the laser autofocusing system, and that's pretty important when shooting video. Overall, we are content with the phone's camera performance.
Multimedia
For the most part, the P10 is an average device for multimedia consumption. As mentioned above, the
5.1
-inch display is not that great in terms of sharpness and color rendition, thus watching YouTube videos or the occasional Netflix series is a largely forgettable experience.
However, the P10 is a decent performer in terms of audio reproduction. The single speaker on the bottom is loud enough, though audio quality from that one is average at best as it's lacking any depth and often sounds rather flat. At least there's a 3.5mm audio jack up there, so throwing а pair of neat headphones in the mix will wield better results for audiophiles. It would have been nicer to have a bunch of sound-related settings for the user to meddle with, but alas, these have not made the cut.