Camera
One major difference between the
P10 Lite
and its flagship siblings is that you won't be getting a fancy Leica dual camera at the back. While that's certainly regrettable, we have to remember that Huawei had to cut some corners in order to offer this handset at a more affordable price. Still, you won't have a bad time while taking pictures with the Lite, as its single 12MP f/2.2 sensor functions quite well.
The camera holds its own in terms of image quality, especially in proper daylight conditions. Photos appear detailed, and the color representation is okay.. There is a certain amount of grain visible in low-light shots, which isn't a surprise considering the size of the sensor. However, it's less severe than we expected, which might be due to the 1.25 micron size of the camera's pixels.
Huawei P10 Lite sample images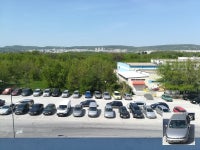 Extras like OIS and laser autofocusing didn't make the cut on the device, but the
P10
Lite does benefit from the extensive camera app which is almost identical to the one on the P10. There are tons of features, filters, and modes available, including panorama, HDR, object tracking, light-painting, all-focus, and time lapse. Photo enthusiasts will also be happy to know that manual controls for both photos and videos are present.
Video quality is acceptable but not that impressive. There is no support for 4K, so the camera can only record in Full HD at 30 fps, and the lack of OIS can produce some really shaky videos. Still, there are a lot of modes present, and the autofocus kicks in rather quickly while recording.
As for the selfie cam, the 8MP front shooter is capable of taking good quality pictures. There is a Portrait mode available, which is a bit hit-and-miss. It can produce a decent selfie, but the bokeh effect does go overboard quite often. The beautification feature is pretty reliable and useful, while Full HD video recording at 30 fps is also present.
Multimedia
The phone does redeem itself a bit in the sound department. A single loudspeaker located at the bottom takes care of the audio output. It is pretty loud and doesn't crackle like the ones on some its budget-friendly rivals, but depth is certainly lacking. Unlike some other manufacturers, Huawei hasn't given up on the 3.5mm jack, so using your favorite wired headset will provide you with a better audio experience.