HTC Windows Phone 8X vs Apple iPhone 5
52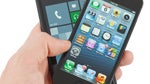 Camera
The Windows Phone 8X doesn't have a bad camera. In fact, it takes some decent photos, but in comparison to those of the iPhone 5, they leave something to be desired. With a slightly better detail and more accurate color reproduction and exposure, the iPhone 5 takes a well-deserved win here.
Indoors
, we found the iPhone 5's camera to perform better in most lighting conditions, though, the HTC 8X does manage to present us to better-looking shots when the light is extremely low.
Video recording
is another area where the iPhone 5 shows its superiority, thanks to a much better overall image quality. Just take a look at the samples below to see the difference – you can't miss it!
HTC Windows Phone 8X Sample Video:
Apple iPhone 5 Sample Video:
HTC Windows Phone 8X Indoor Sample Video:
Apple iPhone 5 Indoor Sample Video:
Multimedia
Once again, it's very difficult to name a definite winner in the multimedia category, as the 8X has a larger screen, but the iPhone has access to iTunes and the App Store, which means a lot more content.
Still, if you are content with what's offered by Microsoft in terms of apps and games, you should find the larger screen of the 8X to be more entertaining than the one of the iPhone 5.
When it comes to
listening to music
, we'd take the iPhone 5's EarPods earphones over the 8X's unnamed ones any day. Even though there's a Beats logo on the back of the 8X, the software enhancements aren't enough to compensate for the inferior sound quality of HTC's offering. With the Beats setting set to "off", the sound coming from the 8X's earphones is simply terrible. With the Beats enhancements on, things do get much better, with the bass being punchy and the highs getting a significant boost. Unfortunately, that is a really big boost, causing an unpleasant hissing when you listen at louder volumes, but still audible at moderate volume as well. Meanwhile, if you truly want to hear the music the way the artist intended, you'll get much better results with the iPhone 5's EarPods, which have a very detailed and balanced sound. If you really need to pump up that base, you can always use one of the provided EQ settings.