HTC U11 Review
Camera
HTC's modernized UltraPixel camera has what it takes to make a believer out of you
Much like Samsung did with the
Galaxy S8
, HTC's not delivering a hugely overhauled camera for this year's big flagship. Like the camera on the
HTC 10
, we're looking at a 12MP UltraPixel sensor. And actually, compared to the HTC 10, the U11's got a slightly smaller sensor, which initially had us a little concerned about image quality; could less surface area with which to capture light actually lead to higher-fidelity shots?
Well, there's a little more to the U11's camera than just size and resolution, and this year does deliver some real upgrades. One of the most prominent is dropping last year's laser-assisted auto-focus for a Dual
Pixel
system – just like Samsung uses.
Around front, the upgrades are even easier to spot, as the HTC 10's 5MP selfie cam has been upgraded to a hefty 16MP camera.
Going into this review, we weren't quite sure what to make of all this. Would those enhancements really put the U11's photo-taking in a class above the HTC 10? Was the smaller main sensor a step in the wrong direction? It didn't take using the
U11
for very long to realize that we operating one of the best smartphone cameras to cross out path in months.
Image quality
Taking pictures with the U11 is extremely straightforward; the interface is clean and not cluttered with superfluous effects and shooting modes, yet powerful manual controls are also just a few taps away. And if you're taking advantage of
Edge
Sense, snapping a pic is as simple as giving the U11 a couple squeezes: once to call up the camera, and once to trigger the shutter.
HTC U11 sample images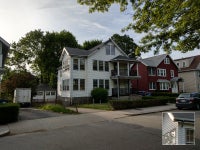 But the truly impressive stuff isn't how easy the camera is to operate, but the quality of the pictures it generates. And let's not make any mistake about it: they're really, really good. The third-gen UltraPixel camera handles tricky exposures without taking too many missteps, and really speedy, precise focus helps ensure that your subject will cleanly captured. From distant landscapes to extremely up-close macros, the U11 shines across a multitude of shooting conditions.
That extends to indoor and other low-light environments as well, and despite our reservations about the smaller pixel size with this year's camera, the results speak for themselves. Even in really dark settings, you don't end up with some splotchy mess, but an image with pronounced grain that looks a lot like what you might achieve with a high-quality film camera.
The front-facer performs decently, too, and has the distinction of generating higher-res shots than the phone's main camera. We're just curious why there's no option like on the similarly 16MP-equipped
U Ultra
to trade resolution for light sensitivity with a 4MP UltraPixel mode.
Especially with the phone's auto-HDR setting engaged, the U11 is capable of producing some hugely impressive photos without requiring much in the way of user attention. It's not quite as stunning as the camera on the also-HTC-made Google Pixel, but it's very much in the same ballpark.
Video recording
As shouldn't be any kind of surprise, a phone with a camera that produces some really nice still shots also handles video recording without too much trouble. The U11 supports filming in resolutions up to ultra-HD 4K, however, while video recorded in 1080p looks fluid and stable enough, our 4K footage turned out rather jumpy and unstabilized. That said, no matter which resolution you're using, the camera is quick to keep up with shifting conditions, dialing exposure up and down as ambient lighting changes, and being really speedy adjusting focus to keep up with moving subjects – no doubt thanks to Dual Pixel technology.
But the real stars of the U11's video technology don't have anything to do with what's happening visually, and instead are on the audio side of the equation. Your first choice is whether you want to record in high-res audio or 3D audio.
The former records sound at an impressive 96KHz in 24-bit fidelity, and saves it in the lossless FLAC format. Admittedly, that kind of sample rate is probably overkill, but it's still a little comforting to know that you're shooting video with the highest-quality audio you can.
3D audio, meanwhile, taps into the U11's excess of microphones: by sampling the phone's four omnidirectional mics all at once, the phone's able to pick up audio that's coming from every direction. Don't worry about needing a surround-sound rig to listen to this, though: the audio's ultimately downmixed to a much friendlier two-channel stereo recording.
Honestly, it's a little tricky to tell the difference between high-res and 3D audio, listening to them side-by-side in an A/B test, but they both sound pretty good, so we're not stressing too much about that.
The final audio-recording mode is a variant of 3D audio called acoustic focus. With this option engaged, when you pinch-to-zoom on the phone's screen you'll also see a circular volume meter, reflecting the audio coming from the center of your shot. As you zoom in, the U11's supposed to isolate the sound being produced by your subject, effectively suppressing background noise.
This is one of those features that we imagine works really, really well under specific circumstances, but is a little more difficult to show off in others. In our tests, at least, we definitely noticed that background noises sounded further away – a little tinny, too, as if removing the bass took away from its authority – but it isn't quite comparable to a tight visual zoom, where you see only your subject and nothing else around it.
Even if those audio modes aren't quite as impressive as we'd like them to be, they do little to take away from the overall high-quality video the U11 is capable of filming.

Multimedia
HTC's bold introduction of active noise cancellation for its earbuds puts the U11 in a class of its own
Much like the U11's skill at recording video, the most interesting parts about how it lets you consume multimedia are less focused on visuals and more on audio. That's not to take anything away from the big, bright, high-res screen on the phone, but without anything interesting like an 18:9 shape going on here, there's little of note to talk about.
Instead, we're looking at some big upgrades when it comes to sound, both in the form of improved speakers and some intriguing new developments with the U11's
earbuds
.
The good news for the speakers is that they're noticeably louder and fuller-sounding than those on the HTC 10, generating decently-balanced audio … with the help of two pre-configured EQ settings, for either music mode or theater mode. Of the two, theater tends to sound a little better, but as the availability of the other option should help indicate, it's really not ideal for music playback: what it gains in enhanced mids, it loses with blown-out bass.
We don't love how HTC isn't feeling much affection for stereo front-facing speakers anymore, but the U11 does make a concession to those days of yore by using its earpiece as a front speaker, helping out the main speaker on the phone's bottom edge. As is far from uncommon with arrangements like this, the earpiece speaker is quiet and treble-heavy, but its presence adds just enough to the U11's audio output to elevate it above strictly-mono handsets.
What's a bit more interesting is what's going with the earbuds. First off – elephant in the room – no, the U11 isn't bringing back the analog headphone jack. HTC started moving away from that port last year, and there's no sign it's going to return. But even that's not all bad news, as the manufacturer has finally decided to bundle a USB Type-C-to-analog adapter in the U11's box, letting you easily take advantage of your existing headphones. How including such an adapter wasn't an obvious step with phones like the
Bolt
or U Ultra, we really, really can't say, but for now we're just glad that HTC's finally come to its senses.
Now with the U11, HTC takes that one step further and taps into the power of the phone's digital interface to sample background noise and generate a noise-canceling signal that's routed back up to the earbuds in real time. That's unlike anything we're seeing other phones attempt, and could easily put the U11 at a big advantage – depending on how well it works.
There's a hiccup or two to how you can take advantage of the noise cancellation, though. With stand-alone headphones, you may have tried turning on their noise-cancellation circuitry when not listening to any actual music – just using them as really advanced earplugs to let you enjoy some peace and quiet. Doing so is also a great demo for just how powerful noise-cancellation tech can be.
But on the U11, there's no way to simply toggle the cancellation on – not independently of listening to other audio, at least. Instead, the cancellation is tied to the custom audio profile you set up for your ears. You can turn on the custom equalizer and the active noise cancellation, or keep them both off, but there's no way to engage the features independently.
That makes it tricky to evaluate them separately, especially as the EQ-boost has a way of making everything sound louder – and correspondingly, makes it that much more difficult to appreciate the noise cancellation. But after creating some audio files consisting of just silence and loading them to the U11, we were finally able to evaluate the quality of the cancellation on its own.
And indeed, it does deliver on its promises, helping to minimize the intrusion of unwanted background noises. But the effect is also a little less pronounced than we've experienced on other noise-canceling headphones, and combined with the awkward software situation of tying its use to active audio playback, makes the feature less compelling than we feel it could be. Maybe HTC will tweak things a bit in the right direction through a future software upgrade, but we wouldn't buy the phone betting on it. In the end, the whole package of the noise-canceling earbuds is good – not great.