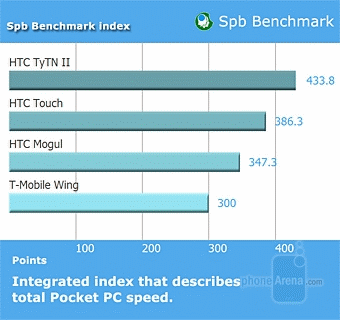 Performance:
We used
Spb Benchmark
to compare the TyTN II system performance with other PocketPC Phones. In real-life usage, it isn't noticeably faster than the first TyTN (with WM6) and acts just normally fast.
As our unit is not with final software it cannot conduct a continued call without blocking, so we will not test the actual battery times. Packed with 1350 mAh battery, HTC claim 6 hours of Talk time and 400 hours of Standby. Using a battery with the same capacity, the first TyTN is claimed for 5/250 hours which means that the newer one is more energy efficient, probably thanks to the new display.
We are rather disappointed by the reception of the phone, being at the average level (5 out of 10). Still it is usable in any area with normal signal and you may have troubles only at places with weak one.
We are pleasantly surprised by the TyTN II call quality – we have no complaints about it as it is excellent. The outgoing sound is very realistic and clear and with strong volume, while you hear with extremely high volume that is enough for very noisy environment. In this case, the voices are slightly muffled but clear and if you turn down the volume a few steps it will be strong enough for most situations but with excellent sound quality.
Conclusion:
The Second TyTN is a welcome addition to the HTC family, being the Kaiser of the brand. It is worth naming it TyTN as it adds just what the phone needed – GPS chip for navigation. We are happy to see that the voice quality has been improved, the construction is moved to the next level (tilt display design, spring assisted mechanism and rubber back) and the software is customized with the TouchFlo technology we've known from the Touch. The TyTN II is almost excellent phone for those searching for a WM6 Professional device, featuring global GSM and 3G roaming, WiFI, GPS and QWERTY in a well-size body, when compared to the E90 for example. The only thing we don't like about the phone is its display which although brighter is still rather unusable in bright light, and remains with QVGA resolution which is now not enough for a high-end phone.