HTC Touch Diamond Review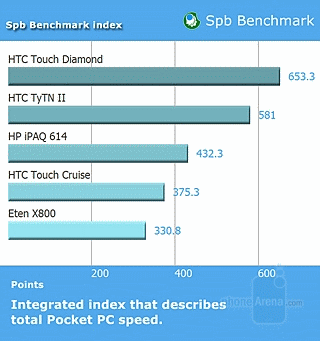 Performance:
The sound quality on the Diamond, both incoming and outgoing, was excellent. Callers said it might be the best we've ever sounded on a cell phone, even when we were on our Samsung WEP500 Bluetooth headset. On our end the caller sounded crystal clear, almost as if they were in the room with us. Speakerphone performance was good, but not as excellent as without. On our end the user sounded clear but a little soft, and callers said we sounded "somewhat tinny but not any different than a landline speakerphone."
The battery life is rated at 5.5 hours of GSM talk time or 4.5 of WCDMA. We were able to achieve slightly higher than the rated 5.5 hours while using T-Mobile here in the US.
The reception, on the other hand, wasn't so hot. We tried both an AT&T and T-Mobile but had issues with in-building reception. With AT&T we could barely, and often couldn't, hold a signal even outdoors in places where we know AT&T works well. Furthermore, some users may not be able to get
EDGE
data with AT&T.
T-Mobile was a decidedly better experience, though still not great in areas such as office buildings or malls. For now we are forced to use the 1900Mhz band, which does not penetrate buildings as well as 850. This could have played a factor in our reception issues so we will reserve our final judgment for when the US version comes out. For now, however, importers beware!
Conclusion:
We are overall very impressed with HTC's latest super-phone. TouchFLO 3D is an amazing overlay that proves to be much more than eye candy. Opera Mobile is the best mobile web experience we've encountered yet. It's a very powerful device for both the business user and general consumer alike, and staying fully connected and entertained on the go has never been easier. The size and weight couldn't be more perfect. HTC set out to raise the bar and they undoubtedly have.
The Diamond is far from perfect though, and the iPhone still has it beat in some important areas. Like we noted, we'll reserve our reception judgment until a proper US model comes out. While TouchFLO 3D is nearly perfect, the lag when navigating the Windows environment needs to be addressed. HTC falls well short on their music player too, which is the iPhone's strength. Until a product is built from the ground up to compete with the iPhone there is little chance that it will succeed in doing so. The Diamond will be wildly successful, most likely surpassing the Touch's 2M units sold, but in the end it is still in a different class than Apple's offering.
To get the device, go here.