Camera
The UltraPixel camera on the HTC One max relies on a 1/3' back-side illuminated sensor with native 16:9 aspect ratio, f/2.0 aperture, and 28mm lens. The pixels, being 2.0 µm in size, should theoretically improve low-light performance by capturing
"more than 300% more light than most leading 13 megapixel cameras"
. But since each
pixel
occupies extra space, not a lot of them have been fitted onto the sensor. The result is a maximum image resolution of only 4 megapixels. The produced images are large enough to be shared online or developed into small prints, but often too small to be cropped and zoomed in on effectively.
Launching the camera app brings us to a familiar from the HTC One screen with separate shutters for photos and video situated conveniently on the right. The settings menu, however, hasn't been organized in the best way possible. You see, all the modes and adjustments are placed in a single menu list with sub-menus, and because of that, finding the setting you need takes longer than it should.
Feature-wise, there is a bunch of filters and scenes to use when appropriate, including Night, Sweep Panorama, HDR, and Anti Shake adding software stabilization to the image. There's a new Dual Capture option that takes photo with both the main and front cameras at the same time, placing the latter over the former. Video modes include HDR video in full HD, 60fps in 720p HD, and slow-
motion
video at 120 frames per second.
Image quality is satisfactory despite the sensor's low resolution, yet below what one would expect from a smartphone of this class. Photos are often underexposed, with average details and visible digital noise even in well-lit scenes. However, one can achieve better results by tapping on the subject being photographed – that is what sets the exposure and focus right. Color representation is very accurate and we don't see the typical for smartphone cameras excessive color saturation boost. Indoor photos are a different story. They look fine as long as there's enough light provided, but even the slightest tremble of your hand is enough to add noticeable motion blur to the image. In darker scenes, colors are pretty lifeless and the digital noise spoils the whole shot. The LED flash comes in handy when a light boost is needed. If set to auto, however, it goes off only when the lighting is really poor, ignoring many low-light scenes where it would have helped as well. We weren't impressed with the HDR mode either – images turned out a bit too bright than they should be.
HTC One max Sample Images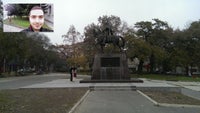 Video quality is, again, of average quality. It is smooth, we can't deny that, but we were expecting to see more detail present in the One max's 1080p videos. As the case is with still photographs, footage may turn out a tad darker than it should be due to underexposure. Continuous auto-focus is disabled by default for some reason. When enabled, the camera has a hard time keeping the focus where it should be, as you can see from our sample video below.
As for the front-facing camera on the HTC One max, it is pretty good, actually, be it for self-portraits or for video chats. It has a resolution of
2.1
megapixels and a wide, 88-degree viewing angle, so one can fit easily in the frame, along with a few buddies.
Multimedia
If you often find yourself listening to music straight from your phone's loudspeaker, then you'll love the front-facing Boom Sound stereo speakers on the HTC One max. The sound they produce is rich, loud, undistorted, and superior in quality to anything you'd hear from a competitor's handset. As for the stereo earphones included with the phone, they sound great as well, as long as the volume is kept at a reasonable level. However, they are of the in-ear kind, designed to be placed inside the user's ear canal. While that reduces the chances of them falling off, some users might find wearing them for prolong periods of time rather uncomfortable. Also, the tangle-free cable of the earphones should have been a bit longer.
Since the HTC One max is supposed to be an outstanding multimedia device, we find the lack of a dedicated video player simply ridiculous. Instead, movies are played from the gallery, which would have been fine if the app didn't list files by date. In other words, video files are scattered all over the place instead of being neatly sorted in a dedicated list. Video playback is smooth and most of the popular file formats are supported. DivX is an exception, but third-party video players are able to rectify this.
The HTC One max is one of the very few smartphones that come with an infrared blaster. With the help of a pre-loaded app, it transforms the handset into a remote control for your TV, home theater system, and set-top box. What's even cooler, that same application has a built-in TV guide so you can easily see what's being broadcast; if you pick a show, the app will switch over to the channel it is on. Note that this service doesn't work in all countries and with all service providers.