HTC Imagio XV6975 Review
HTC Imagio
One area of disappointment is that the
HTC Imagio XV6975
still continues to use the same 528Mhz processor that has been around for a while now, but thankfully the memory has been increased to 288MB RAM and 512MB ROM. This increase in size is noticeable as the system doesn't feel as sluggish as the original
Touch Diamond
and overall responsiveness is better, but we do wish the processor was faster.
Unfortunately we had a slight issue with the phone's call quality. Even though people we called said we sounded clear on their end, we could hear a bit of background "hiss" through the earpiece
speaker
, and there was some distortion if the volume level was raised past medium. There was also a good amount of distortion when using the speakerphone. Another weird thing we noticed is that when using the
phone
normally (not the speakerphone), we could feel the rear plastic battery cover vibrate when the other caller would talk. This was the first time we remember a Verizon phone doing this, but it is clear that the battery cover could use some beefing up. The phone's reception was good, however, and we never had any dropped calls during our testing.
The 1500 mAh battery is rated to provide up to 5.3 hours of talk time or 13.5 days of standby time on a full charge. During our testing we were able to get up to 5.5 hours of continuous talk time, but had to turn all data connections off, such as Wi-Fi and email checking.
Conclusion:
Overall, the HTC Imagio XV6975 is a worthy replacement to the
HTC Touch Diamond
for Verizon; through we wish it looked more fashionable. The large 3.6" WVGA
display
makes the Imagio stand out from other smartphones, and the updated TouchFLO 3D interface along with the Windows Mobile 6.5 Professional operating system make it easier to use. We also like the added functionality, such as VCast Mobile TV, VZ Navigator, Microsoft Bing and an FM tuner. The included
camera
takes good 5MP pictures outside during the day, but it isn't much useful when indoors. Even though the call quality was good, it could have been better, especially if the background "hiss" could be removed. Currently, the HTC Imagio is the most advanced
smartphone
for Verizon, but it does lack a physical QWERTY keyboard, like on the
HTC Touch Pro2
. If you use your phone to type a lot, you should keep this in mind. At this point we'll have to wait and see if the upcoming
Samsung Omnia II
,
Motorola A855
Android
phone, or
BlackBerry Storm 2
will dethrone the Imagio from its top spot.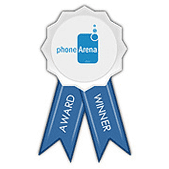 Pros
Easy to hold form-factor
Large 3.6" WVGA display
Windows Mobile 6.5 Pro with updated TouchFLO 3D interface
VCast Mobile TV
5MP camera takes good pictures outside
Cons
Has an overall jejune design
Background "hiss" while in calls
Still requires 3rd party DivX player
OS:
Windows Mobile Professional 6.5
view full specs
Display
3.6 inches, 480 x 800 pixels (259 ppi) TFT
Camera
5 megapixels
Hardware

Qualcomm MSM7200A, Single core, 528 MHz
0.3 GB RAM

Size
4.60 x 2.40 x 0.50 inches
(117 x 61 x 13 mm)
5.30 oz (150 g)
Battery
1500 mAh, 5 hours talk time