HTC DROID DNA vs Apple iPhone 5
99+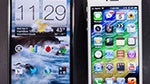 Interface and Functionality:
Frankly, it's yet another case of Android versus iOS – meaning, it's a matter of personal preference. With the iPhone 5, we never get tired of seeing iOS as the more straightforward and easy platform to navigate. Certainly, some people will appreciate that aspect, but it's simply lacking in the personalization department, which is the strongest part about the DROID DNA. Donning its Sense 4+ UI on top of Android 4.1.1 Jelly Bean, the DROID DNA's experience adheres to power users – much like all Android smartphones as a whole.
Always there to help us maintain a level of
organization
, they both feature their own digital personal assistance services – Google Now with the DROID DNA and Siri for the iPhone 5. On the surface, they integrate with various organizer apps, but Google Now extends its worth outside with other aspects – like providing us driving directions, traffic conditions, and sports scores. Naturally, the two excel in the email experience, but again, the DROID DNA's worth shows itself in the Gmail app, as it parallels the experience we get out of a desktop.
It doesn't take a rocket scientist to know that the DROID DNA's Sense
keyboard
is sporting the more spacious layout, while still being super snappy with its response, but the iPhone 5 still manages to deliver a great experience thanks to its equally quick responsiveness and superb auto-correct feature.
Processor and Memory:
No doubt, people will be impress on paper by the HTC DROID DNA, since it's newer of course, but more importantly, it's powered by a quad-core 1.5GHz Qualcomm Snapdragon S4 Pro chip with 2GB of RAM. In contrast, the iPhone 5's hardware might seem insigficant in the face of its rival's quad-core silicon, but regardless of that, its dual-core 1.3GHz Apple A6 processor with 1GB of RAM actually exhibits the snappier performance – though, to be perfectly honest, the Sense 4+UI is a bit more graphically intensive than the static look of iOS 6. Nonetheless, the two perform similarly with other functions and their executions are fast to match their high-end association.
For high caliber smartphones and all, it's somewhat disheartening to know that there's no
storage
expandability with either device. In fact, the DROID DNA is stuck with only 16GB of storage – while the iPhone 5 is available in 16GB, 32GB, and 64GB capacities.
Internet and Connectivity:
Continually a comforting item to see on today's modern smartphones, both are blessed with 4G LTE connectivity for speedy data speeds. Beyond that, the web browsing experiences are equally smashing with the two, as they feature proper page rendering, slick navigational controls, and plenty of sharp details. Overall, you can't go wrong with either of them!
At this point, it's known that the DROID DNA is able to surf on other networks aside from Verizon, seeing that it's also a world phone with GSM capabilities. And of course, the iPhone 5 is available in specific versions enabled for GSM and CDMA. Finally, they pack along similar connectivity features too – such as aGPS, Bluetooth 4.0, 802.11 a/b/g/n Wi-Fi, and mobile hotspot functionality. However, it's the DROID DNA benefiting with NFC.