HTC Butterfly 2 Review
19
Camera
The most notable improvement to the camera is how much more detail it captures.
Interestingly, HTC says adios to the "Ultrapixel" 4-megapixel camera, and has instead outfitted the HTC Butterfly 2 with a 13-megapixel camera, which features an f/2.0 aperture lens, BSI, dual LED-flash, and a second sensor to complete its "Duo Camera" system. This is an intriguing move on their part, since they've constantly touted the advantages of its Ultrapixel camera. Of course, we're curious about its performance, as the HTC One M8 produced rather underwhelming results.
Running the camera app, there's nothing new here to talk about, seeing that it's the same one we're familiar with over on the HTC One M8. Honestly, though, it's pretty versatile because of its rich set of manual controls and shooting modes. Using one of its Motion Launch gestures, where tilting the phone to landscape and then pressing on either of the volume buttons, instantly launches the camera in a heartbeat.
So what's the verdict? Does the switch to a higher megapixel count camera make a sizable difference to its quality? Frankly, the biggest improvement here is the increase in detail – an obvious result, no doubt. Having this gives us more flexibility when it comes to cropping photos later on, so that there's no detrimental loss in detail during the process. Colors seem to be a tad bit saturated, and at times, it struggles to find a neutral exposure level.
Under lower lighting, the visuals become softer in tone, but we're glad to see that it's not burdened by much noise. Overall, the choice of going with a higher megapixel count camera definitely makes it more formidable – plus, the added duo effects continue to give that pro-like look with its profound bokeh-like effect.
Sample images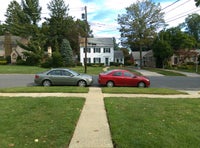 Moreover, we're pretty content with the handset's 1080p video recording quality as well. It's not outstanding per se, but it has enough of the goodies to warrant passable results. However, it really would've been swell if they added 4K video recording into its arsenal – to make it more indicative of a cutting-edge thing.
With its dual speakers aiming at us, the Butterfly 2 is undoubtedly powerful and ideal for multimedia consumption.
Like before, we're given two options when it comes to playing music – the Google Play Music app or the Sense music player. Each have their own unique attributes and characteristics, but it's nice to find that its dual front-firing speakers with BoomSound produce strong tones that top out at 72.4 dB. Even though it's not as powerful in output as the HTC One M8, the BoomSound effect delivers the same punchy and robust tones we adore.
Always ideal for the occasions, especially with its spacious sized screen, the Butterfly 2 is an exceptional device for watching high-definition videos. Out of the box, it supports a wide array of codecs – while its playback is buttery smooth.