Call quality
HTC 10
call quality is nothing to shout from the rooftops about, but it does the conversational job. The earpiece in particular proved inferior than the microphone, with voices being accompanied by occasional crackling and static. The mic, on the other hand, while relaying cleaner sound, leaves something to be desired in terms of strength pick-up.
Call volume with the G5 is very good on both ends, and people's voices are recognizable even if one were to blindly answer calls. On the downside, these voices sound a tad flat and robotic. Thankfully, the earpiece is large enough to ensure that even as you shift the G5's position over your ear, you're still getting audible convos.
Battery
With a 3000 mAh battery, the HTC 10 scored 7 hours and 10 minutes in out proprietary test, which is a commendable achievement, especially compared to the previous editions in the line. That result is not far off the
Galaxy S7
, and will have your phone last the proverbial day and a half with moderate usage. You can perhaps eke out HTC's promised two-day battery, but only if you tap the phone occasionally.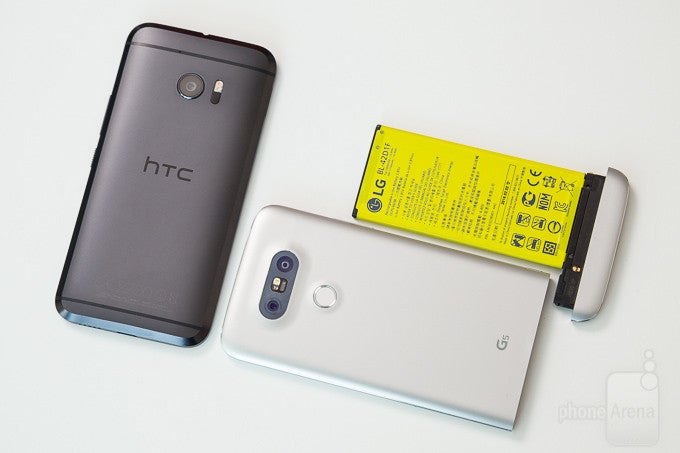 The HTC 10 does comes with a Qualcomm Quick Charge 3.0-compliant, 2.5A charger, but that gets it 100 minutes of charge to full – hardly an outstanding achievement, but not too shabby either. For comparison, the G5 is able to juice up for 75 minutes only, though it does have a smaller, 2800 mAh battery.
That smaller juicer, and the powerful components, make LG's phone battery prowess quite middling. It eked out only 5 hours and 51 minutes of screen-on time in our standardized test, so it will probably get you through the day, and that's that. On the plus side, you can carry a spare, and swap at convenience.
Conclusion
The
HTC 10
is the finest phone in a line that was getting a bit long in the tooth, with no real weaknesses that are worth mentioning. It's well-designed, with fast software, much improved camera, and a traditional stress on audio prowess. The
LG G5
, however, often does better in most scenarios that matter, save for the battery endurance, which is an issue that its modular design may help overcome.
HTC priced its creation a tad higher than the G5, but given that LG has had its puppy on the market for a little while, the tags will likely even out later on. Overall, HTC produced a very good all-around device, while LG tried a bit too hard to set the G5 apart with the modular design concept. Of the two, the HTC 10 is the smartphone we'd go for, but most of the time, the G5 offers a pretty comparable experience.