Google Pixel vs Samsung Galaxy S7
21
Camera
Both are excellent cameras. Here are the details: the Pixel captures richer color and a more balanced image. The Galaxy has fast auto-focus, but it's sharpening everything way too aggressively.
To rival one of the most popular high-end Android phones, Google had to equip the
Pixel
with a great camera. And it did just that.
The Pixel features a 12MP rear camera that is much more discrete than the large center-positioned camera on the S7. It's also flush with the phone's back, unlike the slight but noticeable hump on the S7. The Pixel camera is aided by a dual LED flash and features large, 1.55-micron pixel size (large pixel size is a key advantage for getting better-quality images in low light). The
Galaxy S7
, on the other hand, also sports a 12MP camera, however, with each individual pixel sized at 1.44 microns.
On the S7's list of advantages is Dual Pixel auto-focus system, the first in a phone, which makes it the fastest focusing handset out there. It also has optical image stabilization (OIS), a feature that the Pixel does not have.
Looking at the camera apps, you can fire up both quickly with a shortcut: double-press the home key on the S7, or double click the lock key on the Pixel. Both get the job done, but Samsung's app has controls within easier reach: you can start recording a video with one tap, while on the Pixel you need to swipe to the side to switch to video mode. In terms of special sauce, Samsung has got a manual mode as well as
Motion
Photos that capture a moment before and after the image, and animate your otherwise still photograph memories. The Pixel lacks such an option, but it has HDR+ by default, a nice option that boosts the dynamics of an image. It also has a photo sphere option and lens blur, an effect similar to the new Portrait mode on the
iPhone 7 Plus
, where the background of an image gets blurred, while the subject remains in sharp focus.
Image Quality
Both phones capture images that are some of the best that you can get from a phone. Yet they are different. The Pixel takes pictures with wide dynamic range (HDR+ is always on by default) and rich color, balanced in terms of exposure and color. The Galaxy S7, on its part, tends to focus very quickly and is able to capture sharp, in-focus images in darker situations, when the Pixel takes longer to focus. Pictures from the S7 have balanced colors and very good dynamics, but they are also artificially over-sharpened, which gives them a peculiar style that is easy to recognize.
Both phones have a strong flash that illuminates a pitch dark scene, but not in a particular flattering way as the light is a bit harsh from both.
For selfies, the S7 sports a 5MP front camera, while the Pixel relies on an 8MP shooter. Selfies turn out fine on both, but we are not blown away by the quality on either. The Galaxy shoots much wider selfies that ensure a whole group of people will easily fit, while the Pixel is also wide, but just not that much. Detail is smudged on both and images often turn out with blurry, pastel-like tones and lack a bit in sharpness.
Google Pixel vs Samsung Galaxy S7 sample images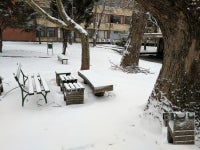 Video Quality
Both the Galaxy and the Pixel record 4K video at 30 frames per second, and they can also record 1080p videos at either 30 fps or 60 fps.
Apart from color reproduction and getting the exposure right, having fast and accurate auto-focus is probably the most important consideration for video quality. The two do an admirable job getting colors on point and nailing the right exposure. Both phones also do very well with auto focusing, but the Galaxy S7 is noticeably faster in switching focus and this gives it one key advantage.
Then, there is video stabilization. The Pixel does not support optical image stabilization (OIS), but Google takes pride in developing a very stable software solution that really works great. The Galaxy S7 is on par: it supports OIS that is used while recording 4K video, but if you want an even better video stabilization, you can switch to 1080p recordings, where you get both optical and digital stabilization.
Multimedia and sound quality
We've already touched on the sound quality out of the speakers of each phone: the Galaxy S7 has somewhat metallic, tinny-sounding speaker that lacks in volume in pronunciation. It's okay, but just not great by any means. The Pixel tops this with a single speaker of its own, which delivers very crisp and sufficiently loud, well-balanced output. It's clearly the better sounding of the two.
We're also happy to see both phones sport a good ol' 3.5mm headset jack. Wireless audio sure is the way of the future, but in the present there seem to be a lot of audio devices that still use a wired port.