Google Pixel 2 and Pixel 2 XL Review
99+
Camera
Without dual-camera gimmicks to distract us, Google once again gives us one of the most effortlessly high-quality camera solutions around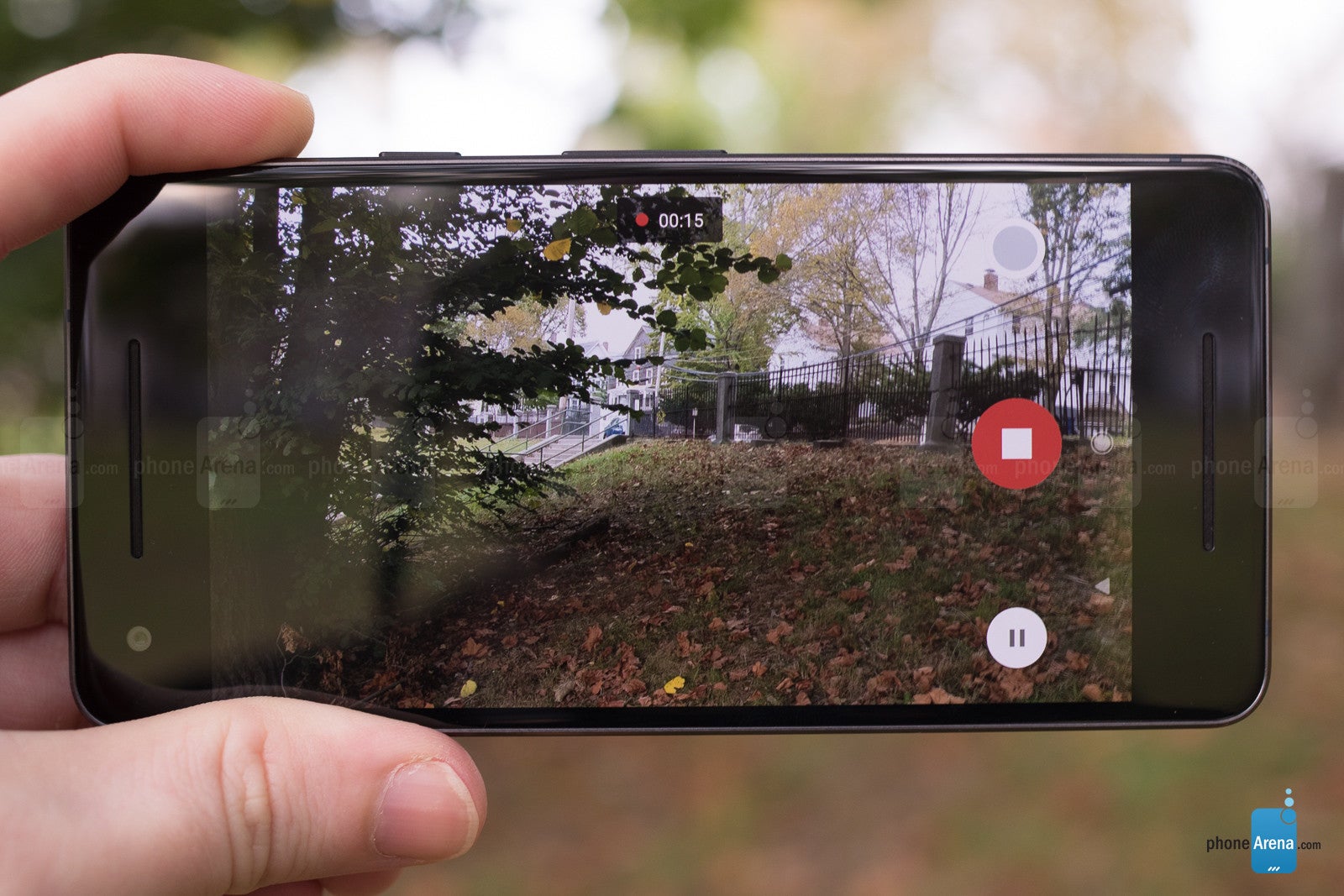 The original Pixel felt like the antithesis to a growing emphasis on smartphone camera hardware: dual cameras, zoom lenses, monochrome cameras, and the like. Instead, Google gave us a straightforward shooter that excelled thanks to its exceptional image-processing prowess, including a stellar auto-HDR+ mode.
With both the Pixel 2 and Pixel 2 XL, we're looking at a very similar story. Both phones offer a single 12.2MP main camera, featuring a relatively wide f/1.8 aperture, optical stabilization, and a combined dual-pixel/laser-assisted autofocus. Around front, both phones have 8MP selfie cams, with the same 1.4um pixel size as the main camera.
That primary camera setup sounds a lot like what we got last year, only with slightly smaller pixels, a wider aperture, and the arrival of optical stabilization. How do those pluses and minuses add up to recreating the exceptional camera performance of the first Pixel? Let's take a look.
Image quality
To our great relief, Google manages to largely recapture last year's magic with the Pixel 2 phones, and both models are capable of capturing some beautiful pictures with only a minimal expenditure of effort. The updated camera software is intuitive and easy to use, and better still: fast and responsive. Just tap on your subject to set exposure and focus, tap the shutter, and you're done.
Across lightning conditions and scene stagings, the Pixel 2 manages to produce some pretty consistently high-quality shots. While there's certainly noise in low-light pics, that tends to hide away in the very darkest regions of the frame, while illuminated subjects stand out with commendable quality. Even the front-facer does a decent job at night, but it is a tad harder to hold the phone steady enough for a clean exposure.
The output of the Pixel 2's camera reminds us the most of Apple's, and we find these shots sharing the same kind of somewhat underplayed, but still very true-to-life-looking color as iPhone pics. Contrast and saturation aren't as over-the-top as some HDR pics can get, and the images we took really feel representative of what we saw with our own eyes.
Perhaps because we had such high expectations come off of last year's Pixel, the Pixel 2 and 2 XL's camera performance doesn't feel quite as revolutionary, but that absolutely does not change that this is a supremely capable, flexible camera that any photography fan should be well happy with.
New to the Pixel camera experience this year is a blurred-background portrait mode, just like you see on all the dual-camera smartphones out there. Of course, the Pixel 2 only has a single main camera – so how does it pull off that depth-sensing magic? Instead of relying on the parallax of dual cameras, Google taps into the dual-pixel autofocus system here, re-purposing that focus hardware to detect depth. The effect works better sometimes than others, and we did notice a fair amount of both over- and under-blur, either where the edge's of a subject's hairline were inappropriately blurred, or background areas were left in sharp focus. The latter condition seems especially prevalent in the zone between a subject's ear and shoulder.
Impressively, Google also pulls off this trick with the front-facer, even though that camera lacks dual-pixel autofocus. Instead Google goes in a different direction, using face-recognition to spot subjects and identify their bodies. As a result, this one is really for people only, and won't be successful with non-human subjects. But in a bit of irony, the edge-detection seems to work a little better here, avoiding confusion over ambiguous depth data and really zeroing-in on your subject.
Both portrait modes could use further tweaking, and we look forward to seeing what Google can deliver as the software matures.
Video recording
At first glance, the Pixel 2's video-recording modes are positively spartan: you've got your choice of 4K, 1080p, 720p, and … that's it. While other phones would toss in some 2K options, MMS, or even 1:1 square video, Google keeps things simple.
But those three resolution choices are just a start, and after selecting one you can also choose to engage the phone's electronic stabilization, and (in all but 4K) choose between a couple frame rates.
No matter which you go with, video quality is really solid. Imagery is sharp even with stabilization engaged, and that mode manages to reduce the shakes without giving the video that overly-floaty look that's typical of correction.
Audio quality leaves us without any complaints, and we were really impressed by the speed at which the camera manages to grab new subjects and adjust focus – faster than you can keep up.
Maybe the one thing that's really missing is that with the Pixel 2 XL, there's no option for recording 18:9 video that would fill the phone's screen upon playback. While such resolutions aren't nearly as popular as the supported 16:9 modes, we're so used to seeing them on other super-widescreen phones that the utter absence here stands out. Perhaps Google has a good reason for this decision, but it feels like it contributes to the XL's screen being more an afterthought than a critical component of the phone's design.
Multimedia
Stereo speakers are a nice win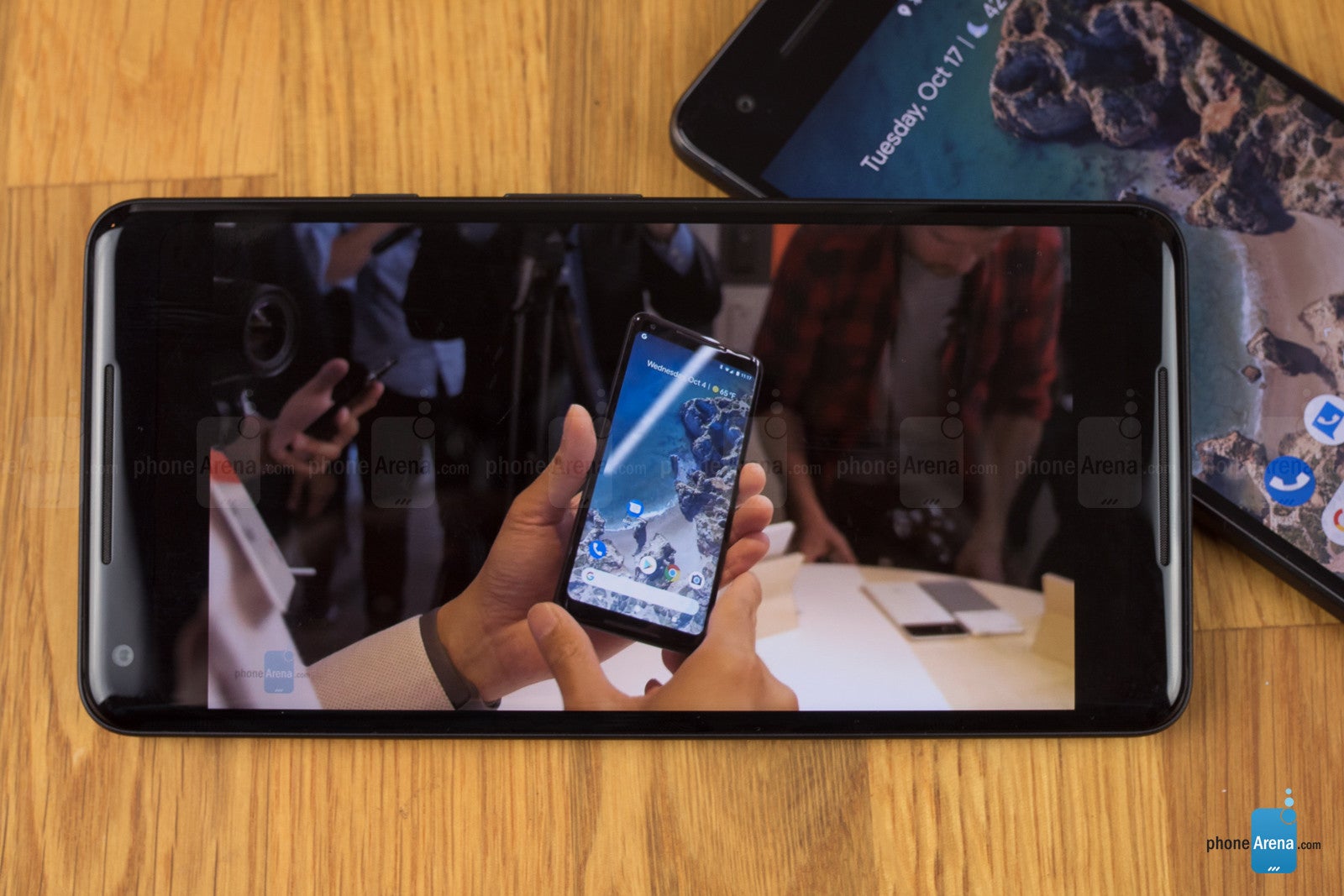 This year, Google steps up its multimedia game for the Pixel 2 with the presence of dual front-facing stereo speakers. While some companies manage to get by with relative success pairing a rear-edge speaker with an earpiece speaker, there really is no beating an intentional layout like this, putting a real priority on immersive sound.
And just as we'd expect, that's exactly what we get from both the Pixel 2 and Pixel 2 XL. Of the two, we'd say the speakers on the smaller phone have the slight edge, being both louder and sounding a little cleaner than on the XL. Maybe that's due to having more room to work with thanks to the larger bezels, but neither phone should steer you too wrong.
But for all the goodwill Google scores from those speakers, the company also joined the slowly growing list of phone-makers doing away with the legacy analog headphone jack.
Google doesn't even include a pair of wired USB headphones, like HTC or Apple does – all you get is the USB adapter for use with your existing earbuds. Google's already faced some criticism over not just this move to do away with the headphone jack but also to ask a steep $20 for a replacement adapter – and thankfully, it's come down from that price.
We already don't love the lack of flexibility inherent with a phone that scraps its headphone jack, to say nothing of the annoyance of having to carry around and keep track of that adapter. But it's made all the worse here by the adapter simply not working very well. We found ours heating up noticeably during use, but the real problem was when the phone refused to recognize the plugged-in headphones and adapter at all, instead ignoring them and routing sound through the Pixel 2's speakers. What followed was an extended sequence of inserting and removing the adapter, restarting apps, and eventually rebooting the phone.
There can be real benefits to going the USB route for sound output, but right now the experience on the Pixel 2 and 2 XL is just too frustrating to make any of those worth it.