Camera
Motorola once again manages to surprise us, as the Nexus 6 meaningfully has some serious substance with its 13-megapixel camera.
Many of the core apps we know and love with Android have been phased out in favor of Google's own branded ones. No longer do we have the Camera app, which has been replaced by the Google Camera app – one that's been available for quite some time as a downloadable app in the Play Store. Yet again, we can see Lollipop's favor of offering a cleaner and simpler UI, since the Google Camera app's interface is predominantly reserved for the viewfinder. In terms of shooting modes, we're given photo sphere, panorama, and lens blur. Sorry folks, there's not an option for HDR with this one. Additionally, there are no manual controls – so expect to use touch focus constantly to achieve the proper exposure.
Remarkably, the results are quite favorable, putting it well within the same scope as the DROID Turbo. That's honestly a relief, considering that the Moto X's quality was underwhelming. In all fairness, the 13-megapixel camera of the Nexus 6 is an all-around solid performer – we wouldn't go far to say that it's a cut above its rivals, but at the very least, its quality is highly competitive.
Outdoor shots come out the best, naturally, seeing that its quality bears all of the essentials in making a good photo. To be exact, there's a fair amount of detail in the shot to give us some elbow room for cropping photos later on. And to an extent, its detail almost rivals that of the DROID Turbo's camera. However, we find it better at dealing with exposure – where it finds that perfect blend, so that certain areas aren't too over or under exposed. And lastly, color reproduction favors a slightly more subdued composition, but it's still pretty neutral to the eye.
As for taking photos under low light, we also cant' complain about the results either, as dimly lit areas are brightened to exposed details. Indeed, its low lighting shots are brighter than say the Moto X, but still not as bright as the photos from the
iPhone 6 Plus
or Note 4. In some instances, though, digital noise becomes a pressing matter – causing details to soften. And to top it off, colors have a warmer tone to them under low light.
Combating the harsh results of low light, the Nexus 6 offers an HDR+ mode, which naturally takes just a smidgen longer to capture, but the outcome is better with its quality. Not only do shots come out brighter, but noise is toned down tremendously to give the shot a smooth quality. In the process, too, colors are injected with a tiny bit of saturation.
Impressively, the Nexus 6 does a better job than the DROID Turbo at taking panoramic photos. Gone are the overly sharpened quality produced by the DROID Turbo, which thankfully is replaced by toned details that give the Nexus 6's panoramics a more natural look.
Google Nexus 6 sample images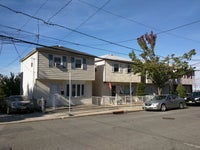 We know, it's there for video chatting and taking the occasional selfie, so don't expect to find any redeeming qualities from the 2-megapixel front-facing camera of the Nexus 6. Photos captured by it appear muddy in tone, so don't hold your breath out for anything spectacular.
In solidifying itself as a relevant competitor, the Nexus 6 records some pretty sharp looking videos – both 1080p and UHD 3860 x 2160 samples. Overall, the amount of detail it captures with its 4K recording is appreciable, seeing that its digital zoom still proves useful in snagging some solid details. Better yet, its optical image stabilization always ensures that our videos aren't too shaky – while its crisp audio recording seems to round out its solid quality. However, our only complaint relates to its continuous auto-focus, which seems to be rather slow.
Multimedia
A large, high-res screen combined with dual front-firing speakers make it perfect for all sorts of multimedia consumption.
The music player, unsurprisingly enough, is the Google Play Music app – something we know dearly all too well, since it's what's loaded on all Android phones. Knowing that this is vanilla Android we're dealing here with the Nexus 6, it makes sense that it's the default music player. The latest version of the app, which has been available to download for a good while now, bears the same updated visual cues that match the new and polished looks of Lollipop.
Outfitted with dual front-firing speakers, it's able to muster up a potent 75 dB of audio power – allowing it to resonate deeply when it's confined in small rooms. We'll certainly say that it has a lot of pop and robustness with its quality, though a bit reserved with its lower frequencies, but the quality can be enhanced further thanks to the equalizer settings it has to offer.
Just like the handful of phablets out there, the Nexus 6 presents us with that ideal experience thanks to the spacious amount of real estate it has to offer for video playback. Paired with the iridescence of its AMOLED display, as well as its smooth playback, the entire video watching experience is soundly favorable.