Gigabyte GSmart Simba SX1 Review
7
Camera
The camera interface is perhaps the area where the manufacturer has put most effort into, and to a good effect. Despite the initial surprise, we found it to be simple to navigate, even comfortable. It's not the most feature rich of camera apps, yet it provides the basics, like HDR, panorama mode and exposure controls, along with a 'Stand Capture' feature which simply takes a shot whenever you stabilize the phone long enough. We found this last one to be constantly clashing with reality, however, as we'd often take snaps we didn't intend to.
Gigabyte touts the 13-megapixel camera unit on the Simba SX1's rear as 'stunning', though we have a mind of our own. Admittedly, it's far from average, but we wouldn't be quite so careless with superlatives. Snaps definitely offer good details with proper color reproduction, and most of the time exposure is correct. However, dynamics are poor, so lighter objects in the image often get burned. All said, we were pretty happy with the results.
Sample Images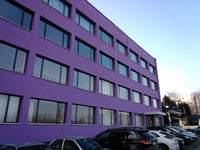 The 2-megapixel front snapper is of a satisfying quality, but the higher than normal resolution is nothing to write home about – it isn't better than your average selfie-cam.
Having gotten the stills out of the way, lets talk video. As you can imagine, 1080p video capture is available, and it does offer good amount of details, just like with stills. Unfortunately, footage is perceptibly dark, and the phone has trouble tweaking exposure levels – adjustments come in waves, and the process lacks fluidity. Audio capture is also not the strongest suite of the camera unit, and it's average at best.
Checking out your Instagram, browsing YouTube or just having a quick watch of the latest episode of your favorite TV series – all of these are a pleasure on the Simba SX1. Its 5-inch 720p screen is not the most
pixel
dense, nor of the highest quality we've seen, yet our day-to-day experiences were overwhelmingly positive.
There's video playback support for most any popular encoding, though you may want to download a dedicated app, like MX Player, if you're looking for more functionality. Either way, 1080p clips are rendered well, without putting too much strain on the processor, or causing lag or artifacts in the footage. However, don't expect the speaker to provide too much of a captivating environment for watching movies, as the mono unit on the back offers low levels of volume. Unfortunately, the earphones are equally impotent in this regard.
The photo gallery, music and video players are all the typical stock apps. This translates into a reliable experience, but nothing fancy or out of the ordinary.