Eten Glofiish X500 Review
1

Messaging:
Different message types are placed in a single menu - SMS, MMS and e-mails. There is nothing unexpected here. Entering text is done by one of the following touch display methods:
Block Recognizer
Keyboard
Letter Recognizer
Transcriber
We think that the on-screen keyboard is the fastest and most convenient way to do it, but if you train the other methods, they can also be quite handy! Combined with the T9 predictive system, entering text with the phone is really quick.
In addition comes "Easy Keyboard" that is a variation of the standard on-screen keyboard – not very impressive one.
Everything is standard in the e-mail menu; there's an option for downloading headers only and you can also set a limit in KB per message. EDGE data upgrades the old GPRS but still we miss 3G UMTS on this phone, which rivals have already launched - UMTS/HSDPA on the HTC TyTN (Cingular 8525).
Connectivity:
Finally Eten have removed their proprietory connector and have replaced it with standard jacks: miniUSB for connection with a computer and for charging, and 2.5mm stereo jack for music. This means you won't be able to use accessories from previous models, but will be able to use a great variety for other Windows Mobile (and not only) phones. This is very wise decision that we greatly welcome!
The supported version for Bluetooth is the latest up to date – it's v2.0 + EDR and supported profiles include: Headset; OPP; GAP; A2DP (Bluetooth Stereo Audio). Compared to previous Bluetooth versions, much higher transfer speeds can now be achieved thanks to EDR (Enhanced Data Rate). Theoretically, power consumption is also reduced. The A2DP profile is useful for stereo audio streaming with a compatible device.
As other E-TEN phones did, the glofiish X500 comes with preloaded Bluetooth manager that replaces the original one. Compared to the latter, this one has more user-friendly interface with large colorful icons and text explanation to each function. It is more comfortable for novice user, but more advanced customers will prefer the standard manager known from other PPCs.
The phone features an integrated Wi-Fi 802.11g module for wireless Internet connection with connections speeds of up to 54 Mbps. You can easily connect to a home/office network, or any public place where "hotspot" service is supported. Wi-Fi transfer speeds are much higher than EDGE ones, and using it for Internet and streaming, as well as VoIP services such as Skype, is not a problem.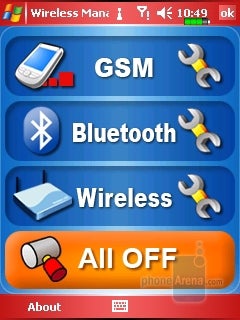 The mobile version of Internet Explorer is used for internet browsing; loading standard pages in full size is not a problem, because of the relatively high resolution (320x240 pixels) of such devices; to achieve even greater comfort during browsing, we prefer using the display in landscape mode (in Eten phones this can be easily done using the M-Desk application). Full-screen usage is almost mandatory when the page has loaded.

There is also One Column View option which eliminates the need for horizontal scrolling but increases the need for vertical scrolling. The page is narrowed and thus it changes its initial look.