Eten Glofiish X500 Review
1

Interface:
As a Pocket PC Phone running on Windows Mobile 5.0 the X500 is identical in software to previous Eten models – the M600(+) and the G500. It also has customized homescreen with shortcuts to many applications, which is very handy for easier access to almost everything the phone has. They are big in size, with scroll buttons to the right which give access to all of them, making 55 in total!
It comes very close to desktop computer with a Windows XP and is suitable for people which use the computer more or less. More often than now, navigating through the menus and using the device is relatively quick and enjoyable thanks to the powerful processor (400MHz clock rate). The added software by "M-Desk" is quite useful. By default it is launched by the right shortcut key in the upper line. This software provides shortcuts to various menus of the phone, divided in four tabs:
• PHONE
• PDA
• FUN
• SYSTEM
As a WM PPC Phone, X500 can be customized in many different ways and the easiest one is changing the visual themes. If you have to use more advanced software, the phone can be adjusted to perfectly suit your needs.
Phonebook:
The phonebook has no restriction on the amount of contact that can be added – it only depends on the memory available. When you open the phonebook all contacts are displayed as a list; each field consists of the name and the number of the contact, while a letter placed beside them indicates what the type of the number is (w – work; m – mobile, etc.). Pictures are not displayed even if there is one attached to the contact.

The line displayed at the top of the screen is a search field, which starts searching through the names and numbers on entering a symbol – the more symbols you type, the more accurate the match is – it's quite useful! There are tabs with different letters (divided in groups of three) just below it. This way you can arrange the contacts so that only the ones beginning with a given letter are displayed. These two search features are quite handy and they make finding a particular contact in the phonebook very quick.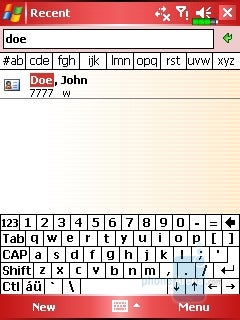 Too bad that's not the case when adding a new name to the phonebook; the device offers way too many capabilities, including multiple work and home numbers, but there's only one for mobile –something quite inconvenient as that's exactly where we wanted to add multiple numbers to. The numerous address, e-mail and other address fields confuse you even further – it would have been a lot easier if the most frequently used fields are highlighted in some way. We would choose this to be done with the Name, Picture, Mobile number and e-mail fields and thus finding them would have been easy, eliminating the need to go through the long list. This is not a shortcoming on the ETEN, but on all Windows Mobile devices.
Personal photos and ringtones can be assigned to each contact; there's no restriction on the size of the pictures but they are visualized in very small size even on an incoming call – we think they are useless. You can also add a note to each contact.
Another major drawback is that a Missed Call number cannot be added to an already existing contact. To do this, you first have to add it as a new one and then Cut and Paste the number into the contact you want. These complex manipulations not only lose your time, but there's also a chance that you lose the number. That's what we experienced. We cut the number, then copied another text by mistake, and the number was gone. That's a problem with all WM PPC phones, not only with Eten ones.
Dialer:
Dialing is done after pressing the ANSWER button, no matter which menu you're currently in. A large numeric keypad is visualized, featuring buttons that are easily pressed even without a stylus. Speed Dial and Call History are the other two shortcut buttons. The first one is a added by Eten and it displays the most commonly used 10 numbers. The Call History (standard for all Pocket PC Phones) is a list displaying all call activity of the phone (incoming/outgoing/missed). You can easily dial a recently used number when viewing this menu.
Organizer:
Alarms can be directly accessed through the home screen. They are three, and they all can be configured to be active for certain days of the week, and you can also assign names and different sounds to each of them. All alarms can be active simultaneously, and overall they are easy to use and do what they are supposed to. Maybe they should have been a few more, as we wouldn't mind having five plus alarms in our pocket computer.
The next tab in this menu is the clock; there is a field called Visiting next to it which can be used as a World Clock – select another location and the phone starts using its local time. The clock has an option to be displayed on the title bar of all the menus, which is handy.
The Calendar can be viewed for a particular year/month/week/day. Appointments are easily added to a certain date and alarms can also be assigned to them. When viewing a particular day, hours are displayed in red and blue background respectively for the "light" and "dark" hours of the day, instead of indexing them with PM and AM – this is done for saving your time.
Tasks are added via the Task menu and each of them can be assigned a date for activation and a priority; you can easily indicate that a certain task has been completed by placing a tick next to it in the list with all the tasks – thus it will not be displayed on your home screen as uncompleted.
The Calculator is simple but its buttons are relatively big and can easily be pressed with your fingers. Features like scientific calculator and unit converter are still missing.
The phone features a complete set of voice commands which are also speaker independent. The voice commands menu is entered by pressing the small button on the left side; after that you can easily select or find a particular contact there. Digit dialing is also supported; it's quite possible that the phone has a problem recognizing your contacts' names, but that also depends on the person who's using it (although it's speaker independent).
For better voice recognition, different commands can be trained, as well as the names in the phonebook. "Training" is actually done by recording a voice tag for each command or number.