Camera comparison: Samsung Galaxy S4 vs HTC One, Sony Xperia Z, iPhone 5, Nokia Lumia 920 and Galaxy S III
99+
Conclusion
:
Following in the footsteps of its predecessor, the
Samsung Galaxy S4
packs one of the best cameras to ever land on a smartphone's back. It might not be the ultimate cameraphone, but it is well capable of outperforming even its top-of-the-line competitors in a number of scenarios, such as close-ups, daytime shots, and night videos to name a few. Needless to say, it will take lots of effort and innovation for the other smartphone makers to come up with something better than the Galaxy S4's 13MP snapper.
Unfortunately, the Galaxy S4 leaves something to be desired when it comes to daytime video capturing. That's a field still dominated by the
iPhone 5
, which captures excellent 1080p video. In fact, its footage looks better than what OIS-enhanced handsets, such as the HTC One and Nokia Lumia 920, are capable of taking, as today's video samples show.
As for the rest of the gang, the iPhone 5 and
Samsung Galaxy S III
have once again proven that they're still part of the echelon of cameraphone photography with their sharp, detailed photographs. The
Sony Xperia Z
, despite having a sensor that offers more megapixels, produces photos that aren't as detailed as we wish they were. We must admit, however, that its night photos look pretty decent.
The
Nokia Lumia 920
is a decent shooter, but we're unimpressed by its overblown colors. Yet we can't deny the fact that its optical video stabilization does make a noticeable difference, especially when shooting video.
Last but not least, the
HTC One
gets the job done in most scenarios, but leaves plenty of room for improvement. Sure, 4 megapixels are almost always enough for most users' needs, yet the amount of detail they capture just isn't on par with today's high-ends.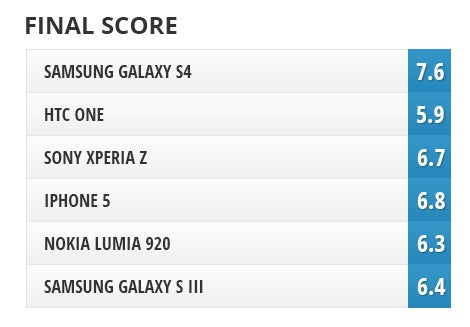 Software versions:

Nokia Lumia 920 - Windows Phone 8, Build number: 8.0.10211.204
Samsung Galaxy S III - Android 4.1.2, Build number: JZO54K.I9300XXEMB5
Sony Xperia Z - Android 4.1.2, Build number 10.1.A.1.350
HTC One - Android 4.1.2, Build number 1.28.401.7
Samsung Galaxy S 4 - Android 4.2.2, Build: JDQ39.I9505XXUAMC6_CSB
Apple iPhone 5: iOS 6.1.3