Camera comparison: HTC One vs Nokia Lumia 920 vs Apple iPhone 5 vs Samsung Galaxy S III vs Sony Xperia Z vs Google Nexus 4
99+
Camera interface comparison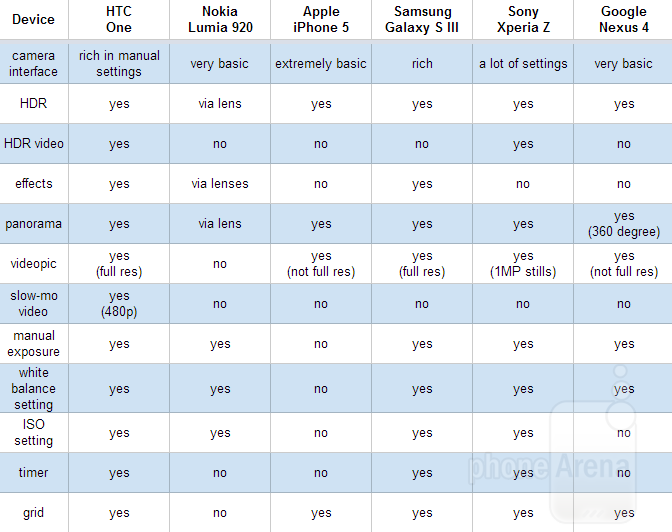 We have six of the best smartphones out there and what's notable about this selection is that none of them have the same camera interface! You get all the variety you want - from full-on automatic with virtually no manual settings (hello, iPhone 5) to a wide variety of tweaks and manual settings (Samsung Galaxy S III and HTC One).
Firing up the camera is lightning quick on all phones, with the difference being negligible, in the fractions of a second with only the Sony Xperia Z taking slightly longer to go from a locked to camera. The auto-focus works equally quickly on all except the Nokia Lumia 920 which is set up differently so that it does not auto-focus and instead relies on the user to focus using the shutter key. In low-lit conditions auto-focus does take a bit longer, but that delay is consistent across the devices. All of them support face recognition but on the Samsung Galaxy S III you have to manually turn it on. Of them all, only the Sony Xperia Z has a smile shutter option.
When it comes to the interfaces, the HTC One has a very rich in options and fairly intuitive interface where you can adjust all sorts of settings.
The Nokia Lumia 920 with Windows Phone 8 has a very basic interface. It uses a weird 'lens' system where you download 'lenses' from the Marketplace to add different effects or modes to your shooting (cinemagraph, panorama, and so on).
The Apple iPhone 5 on the other hand has only an automatic option with the only option being a choice of whether to shoot in HDR or not. The Samsung Galaxy S III is similar to the One in that it has all sorts of settings to choose from.
The Sony Xperia Z also deserved a special mention with its totally unpredictable "superior auto mode." It can capture an HDR image without warning you in any way. This is a double-edged sword - total beginners might appreciate it, but you should stay away from it if you want to be the one who is in control. There is a more predictable, simple 'auto' mode which we recommend for most situations.
Finally, the Nexus 4 has the new ring camera interface that might seem cool at first, but is fairly plain. There are almost no manual settings, and if you are not completely used to it, your finger often gets in the way making it not very easy to use.