Camera
Continuing with the theme of ZenUI, the name of the game here is options. Luckily, the camera interface is better thought out, dare we say even beautifully so. Manipulating the deepest, and to some, most obscure image settings can be done easily between shots, thanks to the use of a small, organized pop-up menu. Shooting modes are also plentiful, and even customizable within their menu layout. The manual shooting mode truly does make you feel like a pro. Additions like an exposure histogram, electronic level, and light metering modes, go a step beyond most smartphone "pro" modes, bringing all the typical white balance, ISO, and shutter speed sliders, as well.
Among the many filters and shooting modes lies a Super Resolution mode, capable of capturing 92-megapixel photos for larger applications, a low-light option, and of course, a mode for adding bokeh, named Depth of Field. Results from this are varied; while every now and then you get a decent blur outline, most times the outline bleeds out to the background, sharpening a bit of the background where it borders the intended subject. Though not stated as an instruction, tapping the subject to align the camera's focus is an absolute necessity. Without this step, you'll come out with pictures that are all blur or show pieces of your subject blurred, with other parts clear. In all actuality, partially blurred subjects occurred often even when tapping to focus, but it was simply just less likely to do so after taking this step. Pretty disappointing software for this function, but when it actually pulls off a proper bokeh effect, the results are pleasing. A slider exists, only directly after taking the picture, to adjust the intensity of the effect. The picture is then saved however you adjusted it with no option for adjusting after.
Asus Zenfone AR sample images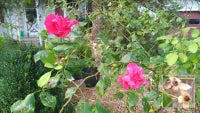 Colors aren't always pale but often lack saturation, partially due to over-exposure, but also a pervasive hue of blue. These combine to cause the sensor to take the
edge
off details a bit, as well as dull down the colors some. This is most noticeable in its capture of reds and oranges, but yellows also appeared pale and blue-ish, while other discolorations can be seen upon closer analysis. Sometimes, rarely, colors came out near-perfect, but most photos suffered some level of discoloration. HDR was quite impressive with pulling colors and details out of the dark, but it was not nearly as competent in grabbing detail from bright areas or balancing between a scene that contains both. Details are generally well-captured otherwise, and while certainly not the worst offender of discoloration, better sensors for color and detail capture do exist, many of which carry nearly half the megapixels (and sometimes price) of the AR. One more strike against its prowess as a flagship competitor.
Videos also portrayed sharp detail and adeptness with low-light areas. Optical image stabilization does a great job of keeping things smooth here, though autofocus seemed almost completely absent when presented with a closer object. There was also some tendency for the phone to fluctuate a bit with exposure, but other than this, videos were very pleasing to look at.
Video and Audio
Watching video is a treat on the AR. While the screen provides rich colors and abundant detail via the Quad HD AMOLED display, Asus' custom speaker setup, pairs well with DTS technology to produce richer and clearer sound than most phones. The ZenFone is also capable of simulating
7.1
surround sound via headphones, though we couldn't tell much of a difference between that and a louder, and possibly better sounding output from an iPhone which lacks this advertised feature. The device is Hi-Res audio certified device, though, so nothing sounds bad through headphones. On top of that, we're afforded a number of ways to tweak the sound, which include bass and treble sliders, an EQ chart, and various preset sound profiles for specific scenes, headphone types, and listening experiences. These controls are fun to mess with for a bit, and we found the "wide" sound profile for music to be pretty spot-on for most scenarios, but we'd rather have a better plug-and-play sound than be forced to experiment, which the comparatively quieter and less immersive stock sound forced us to do.