Asus Zenfone 2 Laser Review 29
For a mid-ranger, the ZenUI has no shortages of features.
Love it, or hate it, Asus' ZenUI running on top of Android 5.0.2 Lollipop comes with its perks. For being one of the smaller players in the sea, Asus invests a lot into its customized Android experience, which is rich with various features that can cater to users who crave for a balance between personalization and functionality.
Sure, the visuals lean towards a cartoonish looking interface, but there's a sense of control because nearly everything can be customized – including the fonts, transition effects, and much more. Even better, if the default theme isn't to your liking, it can be swapped for any of the myriad in Asus' online store.
Functionally, ZenUI competes to the same degree as some other power-centric experiences, like Samsung and LG's custom skins, seeing that we have an abundance of tools and features at our disposal. On one hand, it's nice having such a comprehensive set at our disposal, but it can come off as overcomplicated to some users.
System Performance
Even with the switch to Qualcomm's chip, it performs to the same standards.
Asus partnered with Intel when it released the original Zenfone 2 earlier this year, but for the Zenfone 2 Laser, they've swapped out Intel's silicon with one from Qualcomm's camp – an octa-core Snapdragon 615 SoC coupled with 3GB of RAM and the Adreno 405 GPU.
The real-world performance out of the handset is pretty good for a mid-ranger, delivering enough responsiveness to all of the basic tasks we tend to do with our phones. Results from its various benchmark tests show us that its performance is very much typical of a mid-ranger, but hardcore gamers won't be satisfied by its choppier graphics processing performance.
Asus ZenFone 2 Laser (US)

37548

Motorola Moto G (2015)

22406

Alcatel OneTouch IDOL 3 (5.5")

32175

Vellamo Metal

Higher is better

Asus ZenFone 2 Laser (US)

975

Motorola Moto G (2015)

1224

Alcatel OneTouch IDOL 3 (5.5")

933

Vellamo Browser

Higher is better

Asus ZenFone 2 Laser (US)

2022

Motorola Moto G (2015)

2186

Alcatel OneTouch IDOL 3 (5.5")

2254

Sunspider

Lower is better

Asus ZenFone 2 Laser (US)

1472.2

Motorola Moto G (2015)

1361.8

Alcatel OneTouch IDOL 3 (5.5")

1306.7

GFXBench T-Rex HD on-screen

Higher is better

Asus ZenFone 2 Laser (US)

14

Motorola Moto G (2015)

9.6

Alcatel OneTouch IDOL 3 (5.5")

15

GFXBench Manhattan 3.1 on-screen

Higher is better

Asus ZenFone 2 Laser (US)

5.5

Motorola Moto G (2015)

3.9

Alcatel OneTouch IDOL 3 (5.5")

6

Basemark OS II

Higher is better

Asus ZenFone 2 Laser (US)

309

Motorola Moto G (2015)

581

Alcatel OneTouch IDOL 3 (5.5")

495

Geekbench 3 single-core

Higher is better

Asus ZenFone 2 Laser (US)

579

Motorola Moto G (2015)

528

Alcatel OneTouch IDOL 3 (5.5")

664

Geekbench 3 multi-core

Higher is better

Asus ZenFone 2 Laser (US)

2320

Motorola Moto G (2015)

1554

Alcatel OneTouch IDOL 3 (5.5")

2402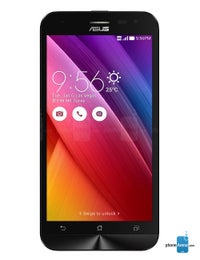 Display

5.5 inches 1920 x 1080 pixels

Camera

13 MP (Single camera) 5 MP front

Hardware

Qualcomm Snapdragon 615 3GB RAM

Storage

32GB, microSDXC

Battery

3000 mAh

OS

Android 5.0 Lollipop ASUS Zen UI