Apple iPhone X Review
Camera & selfie portrait mode
Considering the humongous camera bump on this iPhone, it better have a spectacular camera!
The
iPhone X
features a 12 MP dual camera, where the secondary one serves a 2x zoom function. In terms of shooting experience, there's nothing out of the ordinary here – it's the same camera application that's available on all other iPhones, complete with portrait bokeh mode, and the new portrait lighting effects. Actually, there's one new mode on the iPhone X, and that's portrait bokeh mode for the selfie camera. Sounds exciting? It sure is, although as you'll see in the sample galleries below, the results are far from ideal.
Image quality with the iPhone X's camera is consistently great. There are some occasions that involve trickier lighting conditions, which sometimes result in off-looking shots, but most of the time, you can count on the 12 MP camera to produce superb photographs.
Out in the day, photos obviously tend to be sharp and vibrant and full of life, maybe even a tad exaggerated, but the real fun starts when you launch portrait mode and get to take some dramatic, artsy portraits of your loved ones. We find portrait mode on the iPhone X to be sufficiently reliable, rarely introducing imperfections that would cause too much annoyance.
If you go out in the evening and attempt to shoot some pictures with the iPhone X, you should be mostly happy with the results. After all, this is one of the very best smartphone cameras you can get right now. However, if we specifically talk low-light photographs, the
Galaxy S8
and Note 8 continue to offer the superior quality, with better sharpness and overall fidelity.
Selfie pictures with the X are superb – the front-facing snapper offers a great balance between accentuating the subject and including some of the scene in the back for added context. However, when capturing selfies, you might want to stick with the normal mode, because the new portrait selfie one is not quite ready for prime time. Compared to the regular portrait mode of the rear camera that we already know, portrait selfies are way more susceptible to unsightly artifacts around the subject, plus they take a couple of seconds to get processed and stored. It appears like the camera gear in the notch isn't quite up to the challenge to produce impeccable portrait photos with bokeh just yet.
Apple iPhone X sample images
The iPhone X, along with the
iPhone 8
and 8 Plus, is the first phone in the world allowing you to record 4K video at 60 frames per second. And while those videos look super-fine and extremely smooth, there's a very good reason why you might want to revert to recording in 1080p, and that's Apple's Cinematic video stabilization, which is only available when recording in 1080p or 720p. Cinematic video stabilization is a killer feature – it makes recorded footage look incredibly nice and fluid, successfully removing almost all camera shake. Besides, 4K videos, especially those recorded in the new, 60 fps mode, have incredibly large file sizes. Just for comparison, a 1:30min 4K 60fps video recorded with the iPhone X weighs in at about 1.2 GB, while a 1:30min 1080p 30fps video recorded with the same phone, has a file size of just 200 MB.
Camera takeaway:
It's just a superb, versatile camera that can take wonderful pictures and video in a variety of conditions. The secondary zoom lens is very useful, while the wonderful portrait mode seems to have gotten even better. However, we feel let down by the selfie camera portrait mode, which doesn't live up to Apple standards.
Apple iPhone X Sample Videos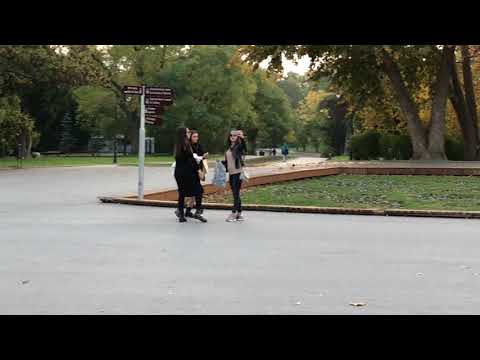 Multimedia: the notch can't quite ruin the show
We've already established that the iPhone 8 and 8 Plus have the best loudspeakers on any phone; and obviously we wouldn't expect the more expensive iPhone X to be a step back. And it isn't: it sounds about the same as the iPhone 8, which means very loud and with remarkably tolerable quality.
When it comes to the music service that you can use to listen on these cutting-edge speakers and earphones, you're basically free to choose whichever you like: Apple Music is pre-loaded, but you can also install Spotify or Google Play Music – there are no unnecessary limitations here.
YouTube generally looks OK – if you're watching a video with a traditional, 16:9 aspect ratio (still most video out there), it'll look good, with some pillarboxing around it, which happens to be enough to conceal the notch. Wider videos, such as those often produced for hit singles, do reveal the notch, as well as just a section of the curved screen corners, and thus don't look perfect. It's not a terrible experience, but something has to be done about it in the future.
Performance
It's the world's fastest phone (together with the iPhone 8 and 8 Plus).
We really don't need to talk much about system performance on the iPhone X. Like with all other recent iPhones, it's best in class. Everything moves without a hitch, with such immediacy and fluidity that can rarely be observed on any other computing device.
The new Apple chipset is called A11 Bionic, and it's the same thing that's found inside the iPhone 8 and 8 Plus, so in this regard, the iPhone X doesn't offer anything extra. One of the great strengths of Apple's chipsets is that in addition to leading CPU performance, they also excel in terms of graphics processing. If there's ever been such a thing as a perfect smartphone for games, it's the newest iPhone. Although
Razer may have something to say
about this.
So, everything moves in a swift and efficient manner, but how much stuff can you store on this thing? We wouldn't worry too much about this: the $999 version comes with 64 GB, while the even more premium $1149 iPhone X bumps that to 256 GB – plenty of storage even for the most extreme camera buffs.