Apple iPhone 7 vs HTC 10
Camera
Two excellent cameras: Apple's iPhone captures more vibrant, eye-popping color, while HTC's 10 goes for slightly more muted, but also more realistic colors.
Phones these days replace cameras for a great number of people, so it's no surprise that camera requirements have only grown taller.
Let's preface this by revealing a well-known secret: the
iPhone 7
and
HTC 10
are two of the best camera phones you can get these days. Specs alone don't tell much, but it's important to know the basics: the iPhone 7 ships with a 12-megapixel rear camera with a size of 1/3 inches and a wider-than-before, f/1.8 lens, while the HTC 10 has a larger, 1/
2.3
-inch sensor that also captures images in 12MP resolution using an f/1.8 lens. Both cameras also have an optical image stabilization (OIS) unit that helps stabilize the camera in low light and also helps with the stability of video.
The camera app on the iPhone 7 is no surprise: Apple has been adding function after function with every new iPhone, but its camera app remains delightfully simple and devoid of complexity. There are no manual settings, but there are third-party apps for that and chances are the majority of people don't need them, so this is a smart decision by Apple rather than a sore omission. HTC, on the other hand, features a somewhat complicated and a bit more confusing app that takes a bit of practice to get used to. The side-pulled menu that allows you to change between modes is not the most intuitive one out there, but in the main interface you do get some useful features like an instantly accessible video recording button alongside the photo capture, as well as a pause button for your videos (not available on the iPhone).
Let's cut to the chase, though: image quality. Both the iPhone 7 and HTC 10 do an excellent job. While some popular phones like recent Samsungs go overly aggressive with sharpening resulting in somewhat weird-looking shots, both the iPhone 7 and HTC 10 manage to capture very well-balanced pictures that have great dynamics, excellent color and adequate sharpness.
The big improvements for the iPhone come in low light photography as the faster, f/1.8 lens lets more light in and allows for shots that were not possible on earlier iPhones. The HTC 10 does comparably well in low light situations.
The iPhone also has the Live Photos option that captures a moment before and after the image, and animates your otherwise still photograph memories. The HTC 10, on the other hand, has a Zoe capture option that does somewhat similar, but requires fiddling in the menus to enable it and results in two files, a separate video and image file, rather than one file as inside the iPhone camera roll.
Apple iPhone 7 vs HTC 10 Sample Images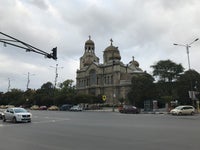 Up front, we have a new and higher-res 7-megapixel camera on the iPhone 7, while the HTC 10 is the first mainstream phone to have a front camera with optical image stabilization (OIS), in its case on a 5-megapixel sensor. Both phones also use their phones that fire up at maximum brightness as a kind of a flash alternative in low light, but we found the iPhone producing more light. As to regular conditions, both phones capture good-looking selfies, the iPhone with slightly more saturated colors, but the HTC seems to be able to capture more light and do slightly better in low-light conditions.
In terms of video quality, both phones are capable of recording 4K video at 30 frames per second. The iPhone 7, however, boasts the clearly superior video stabilization via both electronic and optical ways, and it is also very quick with auto focusing. The HTC 10, on the other hand, also does well, but is just a bit less stable and has a bit more trouble with focusing than the iPhone.
Multimedia and sound quality
Sound has traditionally been HTC's home turf: it has been equipping its flagships with dual front speakers for years on end, but just in the year when HTC skips on that trend, we see Apple's iPhone strengthen up its sound output via a dual speaker system of its own.
So yes, both phones have dual speakers, but neither of the two has both of them firing at the front: instead, both rely on a system with a single bottom-firing speaker, and another one that covers the high tones located in the earpiece. Both produce fairly loud and high-quality sound.
The elephant in the room concerning audio is without a doubt the lack of a 3.5mm headset jack on the iPhone 7. It's an omission that will affect many: those who already have a set of good 3.5mm headphones, those who plug in their phone to the AUX port on their car, or those who play to their home sound system directly via a phone. The HTC 10, on the other hand, has that regular 3.5mm jack, so it does not need to deal with all those painful consequences.