Apple iPhone 6s Review
Camera
Always the versatile one for a variety of situations, the new 12-megapixel camera delivers great still shot quality, while its video recording and editing capabilities have gone even further.
iPhone 6 Plus
brought on optical image stabilization into the mix, but it was nowhere to be seen on the
iPhone 6
. Unfortunately, that is still the case with the
iPhone 6s
, which has to rely solely on software techniques to keep things nice and steady.
Turning our attention to the camera interface, there's nothing particularly new with its feature set on the surface. Yes, it's still a straightforward experience, which is what you want when you're out to just capture the moment, but it lacks the deeper set of controls that some other high-end smartphones offer out of the box – such as some more advanced manual controls.
The familiar selection of shooting modes is once again present here, including panorama and HDR, but don't think that's all to the experience. Apple has added something new to the mix; something called Live Photos. It works on the same premise as HTC's Zoe. The camera captures and stores 1.5 seconds before and 1.5 seconds after the user has pressed the camera shutter to take a picture, with the result being a short video highlight that you can later view from the gallery. Just hard-press on the selected picture, and the stored Live Photo moment will play instantly, complete with sound. Essentially, it gives your photos a different type of dynamic, in the way that they appear to "come to life". Some folks relate it to a GIF animation, but it's not exactly the same, partly because Live Photos have sound. This new feature sure is interesting and undoubtedly has potential to shake things up inside our photo galleries, but in our experience, it appeared to need a bit of further polishing. More often than not, the captured footage prior to the user tapping the camera shutter comes out nice and adds some intrigue to the experience of photo viewing, but most of the time, the last moments that are captured after the shot end up simply showing the user lowering the camera down, capturing a few frames of their feet along the way. At least that's how most of our Live Photos ended up like, and we're hearing other people share this experience too. If Apple is to successfully make Live Photos a desired part of the regular photo taking process (after all, the feature is turned on by default), we feel it'll have to tweak things a little, perhaps shortening or altogether eliminating the recorded part that comes after the moment of pressing the camera shutter. Thankfully, if you don't happen to be a fan of this whole Live Photos affair, you can easily deactivate it by tapping the corresponding symbol in the camera UI.
Every single year, the iPhone is always a contender in the photo space, just because it's so versatile to use in an assortment of situations. Undoubtedly, it's also one of the fastest with its start-to-finish time! You'll be able to snag a photo in under 2 seconds most of the time, and that even includes HDR shots as well, ensuring that you'll never have a missed opportunity.
Image quality
Now comes the most crucial part of it all – the still image quality. Above all, the jump to a 12-megapixel camera translates to more detail captured by the camera, providing some additional leeway for image cropping or using the digital zoom. Not only does it obtain more detail from the scene, but it's pleasantly sharp throughout the range as well – so that there's equal focus balance across the scene. Of course, that changes when we're dealing with portrait or macro shots, as the camera coughs up some bokeh to the sections outside of the focus area, but it's not too over-powering with its out-of-focus effect, which can be attributed to its narrower f/2.2 aperture.
Colors, for the most part, tend to favor warmer tones. It's not too overblown, thankfully, seeing that the saturation isn't as profound as it is with some other phones. There's also good handling of exposure and dynamic range, such as the case with scenes where the clouds try to compete with the darker color tones of a landscape shot. For the most part, the iPhone 6s does a pleasant job of balancing between the two, so that the sky isn't too washed out to better expose the scene.
Speaking of contrasting shots, its HDR mode does well to soften strong lighting sources in the scene – to balance out the overall dynamics. That means shadows receive a slight boost in exposure, while highlights are subdued a bit. Honestly, we feel the HDR effect's implementation here is a bit too conservative, but that's not necessarily a bad thing. We're also pleased that we don't see a whole lot of color saturation or sharpening to give the shot an artificial quality.
Indoors, under artificial lighting, the iPhone 6s once again does very well. At times, it tends to sprinkle some yellow hues to the shot – producing yet again warmer looking images, but it's nothing too intensive. Details manage to retain their sharpness without being too subdued, but when shooting in complete darkness, we noticed that the phone often struggles to lock a correct focus.
Selfies are significantly better, too, with the new 5-megapixel iSight camera around the front. Indeed, not only is there more detail to work with this time around, but taking selfies in dark lighting conditions is also much-improved. There's actually a new flash of sorts for the front camera – the screen. Courtesy of a new, dedicated display chip, triggering the front camera actually lights up the display with luminance three times higher above its regular maximum level, in order to illuminate you as best as it can. What's more, it'll adjust the exact color temperature of the screen flash in order to try and achieve a correct color balance for your selfie. The result is very good, even for selfies taken in complete darkness, as the handset manages to retain a good part of the details that are usually present when it's used during ideal conditions. Even though this particular screen flash idea isn't brand new, as there are some Android phones that offer it, Apple has made sure that its own implementation far surpasses any previous ones – thanks to the abnormally strong luminance output and the color temperature correction feature.
Apple iPhone 6s Sample Images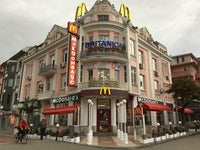 Video quality
Following the example of many high-end Android handsets, the iPhone 6s has now learned how to record 4K video. For those unfamiliar with the 4K concept: it basically is a higher-resolution video footage that appears more detailed in comparison with 1080p, which is still the ruling standard. Taking things further, however, the iPhone 6s can record unlimited 4K video clips, unlike the other phones that are also capable of 4K, all of which have some sort of limiting factor: be it a hard-coded 5-minute limitation (Samsung Galaxy phones), or hardware incompatibility that manifests in the form of overheating and force-closing of the camera app (Sony Xperia phones). Well, by unlimited, we actually meant... as long as you have free storage left on your iPhone, because 4K video usually takes up tons of megabytes!
Overall, there's very little to complain about the iPhone 6s' video quality. If detail is the most important thing to you, then you'll probably want to stick with its 4K video capture. In fact, 4K has one more benefit, as it lets you use digital zoom without sacrificing so much precious image data. Meanwhile, there are two options to choose with 1080p recording: the usual, 30 fps rate, and the
motion
-filled 60 fps one. The decision between the two is mostly a matter of personal preference (with us gravitating towards the way smoother 60 fps), but just know that all recording modes deliver the same outstanding results. However, we will say that it's rather annoying that we can't change the shooting modes through the camera app itself. Rather, we're only given access to that through the general settings menu.
The iPhone 6s does very well with its exposure and auto-focus adjustment. They're never too over-sensitive, nor delayed with their operations. Over on the audio recording side of things, it mostly captures good voices, but we're sad to see that sounds coming from behind the camera (from the person holding the camera) come out rather muted.
Apple iPhone 6s Video Samples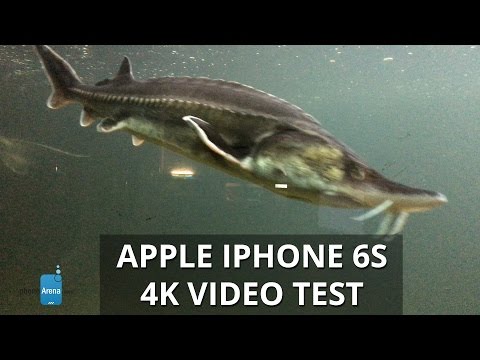 Multimedia
A vivid screen, fine speaker and quality earphones make the iPhone 6s a great multimedia device.
In terms of editing, we're given a bunch of basic tools for photos – such as cropping and a handful of filters too. There are even some additional tools, such as adjusting the exposure and color saturation, to sprinkle on some additional enhancements to our shots. Conversely, we're only given the option to crop our videos, and that's about it. The iPhone 6s' functionality level, as far as the built-in overall package is pretty light, but then again, we shouldn't forget that Apple's whole iLife suite of apps comes for free with every new iPhone, so should you decide to get those from the App Store, you'll suddenly find yourself having access to top-quality image- and video-editing, as well as music creation functionality.
Moving onto the music player, commonly known nowadays as Apple Music, there's nothing out of the ordinary that we don't currently have on existing iPhones running iOS 9. Yet again, the new features here come courtesy of 3D Touch. With Quick Action, pressing down and into the icon on the homescreen allows us to search for a specific track, launch Beats 1, or just get right into the player itself. Inside the music player, 3D Touch can give you informative glances at your music, playlists, and more. Of course, Apple Music's functionality is intensified if you happen to be a subscriber to its service, but it's decent enough too for aggregating local content with its modern looking layout and straightforward functionality.
On one hand, we don't like the fact that the loudspeaker has apparently become a bit quieter since the iPhone 6, but on the other, we're glad to find that it's now actually capable of outputting some nice, lower frequencies to give the sound some much-needed depth. In addition, it also has some more brilliance, so overall, it sounds deeper and clearer than what the iPhone 6 offered. As a matter of fact, we compared the iPhone 6s's speaker against that of the Galaxy S6, and we have to say the one on Apple's device sounds better. We also reached the same conclusion when we compared the 6s's speaker to the stereo BoomSound speakers of the HTC One M9+, which sounded muddy in comparison.
For serious music listening, though, one should always resort to using earphones. Yet another strong side of the iPhone 6s in this department is found with the earphones that come with it. The so-called EarPods are one of the best 'out-of-the-box' earphones we've heard, audibly outclassing the earphones coming with handsets like the Galaxy S6 and G4. Not only are they convenient to wear, but, perhaps even more importantly, their depth and clarity make music listening a pleasurable and authentic experience.
Watching video is a fun thing to do with the iPhone 6s. The 4.7" screen isn't too massive, but it's still perfectly sufficient for most use cases, such as YouTube and Facebook video, or why not even a quick TV show episode. We also like the zoom-in feature while watching video, as this can make it easier for the viewer to make out smaller details, such as when watching video game footage of some sort.