Amazon Fire Phone Review
28
Camera
The 13-megapixel looks good on paper, however, its muddy details and soft low-lighting performance doesn't make it a strong shooter.
For what it's worth, the experience doesn't try to entice us with any redundancies. Rather, it's a simple interface that places attention on quickly snapping a shot – albeit, it takes a good while to get the camera up and running from an off/locked position.
Amazon surely outfits the Fire Phone with a pretty darn spec'd camera, one that's boasting a beefy sized 13-megapixel sensor – accompanied with gear akin to top-notch camera phones. Specifically, they include an LED flash, a 5-element f/2.0 aperture lens, backside illuminated sensor, and optical image stabilization. Truthfully, the camera gear is undeniably ample, but its quality is rather underwhelming.
From the looks of it, the camera has some difficulty focusing on the fly – it just seems sluggish, and at times, it totally misses it. Not only that, but details captured aren't the sharpest. Colors, on the other hand, seem punchy for the most part, but we do notice a more drab tone under artificial lighting. Well, it's not to say that it can't snap some good photos, which is does when sufficient lighting is present, but its quality just doesn't compare against some of the other highly esteemed smartphones floating about right now.
Amazon Fire Phone sample images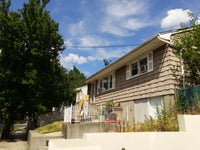 Thankfully, though, its 1080p video recording quality is more tolerable. However, its detail capture is once again just too insignificant to give it a uniform look that's sharp – so instead, it's softer looking. At the same time, exposure seems to be a bit more sensitive. Despite those issues, it manages to maintain a steady capture rate, records mostly clear audio, and features a responsive continuous auto-focus. It's not amazing, but the quality is likable enough to use.


Powered by the rich ecosystem of Amazon's various services, it's a multimedia powerhouse with things like Amazon Music Prime, Amazon Instant Video, and Kindle.
The music situation is little strange with the Fire Phone, since it separates content into two separate apps. For songs that are purchased through Amazon, they're accessed through the default music player on the phone, but if you happen to be an Amazon Prime member, you'll need to download the Prime Music app to access that service. Who knows why they opted to go with this approach, but there's no arguing that it would have been more beneficial to combine them.
With the standard music app, it boasts the typical layout we're accustomed to seeing – where an album cover and playback controls dominate the interface. Using the peek one-handed gesture, we can access another panel on the right to view lyrics that pop up accordingly to a song being played.
Volume output from the handset's dual speakers is strong, as it resonates with 74.5 dB of power. Even with the ample power, the overall quality sounds a bit hollow to the ear. Interestingly enough, the pair of headphones included with the packaging look awfully a lot like the earpods that come with the iPhone. One cool thing about them is the magnetic connection, which allows the
earbuds
to stay attached together, but unfortunately, they feel rather loose in the ear.
Typical for being an Amazon product, the Fire Phone lays claim to the same breadth of services that we've seen with Amazon's Kindle tablets. From books, newspapers, magazines, and audiobooks, there's no shortage of content to consume – albeit, the size of the screen is a limitation with our comfort reading for a long term period of time.
In order to truly reap all the benefits of what the Fire Phone can offer, you'll need to be an Amazon Prime subscriber. Without it, you'll be shortchanging yourself with the experience – so it's crucial. Fortunately, Amazon is kind enough to provide early adopters with 12 months of Prime service for free. Now, it's worth knowing that this offer is available for a limited time, so who knows exactly when Amazon will pull the plug on this valuable offer.