Best O2 iPhone 13 deals in May 2023
We may earn a commission if you make a purchase from the links on this page.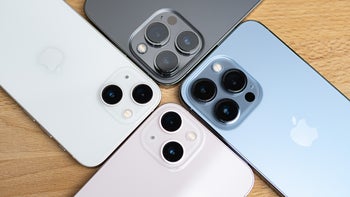 As deals on carriers often evolve and change, don't hesitate to bookmark this page and check back in a few weeks for new offers.
Looking for the best iPhone 13 deal at
O2
in May, 2023? You've come to the right place! O2 is one of the four main UK carriers and offers great phone prices and plans, and luckily, it has deals on some of the models of the iPhone 13 family. The iPhone 13 Pro and Pro Max are no longer available at the carrier, but the standard iPhone 13 and the compact iPhone 13 mini are still present in O2's inventory.
As usual, you will need a contract with the carrier to benefit from the iPhone 13 deals it has available. However, a steeper discount can be achieved by trading in your old smartphone with the carrier: O2 will determine the discount you can get by examining your traded-in device. The trade-in discount will help you save on your monthly bill.

The iPhone 13 series is available with Pay Monthly plans with O2. If you want a cheaper option, you can also check out the
O2 refurbished iPhone 13 options
, but keep in mind those phones have been used and then renewed.
And, let's not forget the gorgeous extras that the carrier offers. With the deals down below, with select plans you can get to enjoy a free Disney+ subscription (worth £7.99 a month) or Amazon Prime Video (worth £5.99 a month) among other cool extras. The free trial period depends on the tariff you've chosen, and it can be from 1 month up to 6 months.

With all that being said, let's look at the details about the deals O2 currently has for the iPhone 13 series.
Jump to:
The
iPhone 13
is getting some discount love from O2 at the moment. With select plans, you get to save from your monthly bill. Apart from that, you can benefit from extras that not many carriers offer with select plans.
The compact
iPhone 13 mini
is also available at O2, and currently it's at its retail price. You get extras though, depending on your plan.
O2 iPhone 13 Pro and Pro Max deals
The
iPhone 13 Pro Max
and the iPhone 13 Pro are no longer available at O2. You can check our
Best O2 phone deals
article for offers on the iPhone 14 phones.
Is it worth getting an iPhone 13 from O2?
Currently, as you can see, the O2 offers for the iPhone 13 are very good. However, to determine whether or not it's worth it to get your phone from here, let's compare what other carriers offer.
EE iPhone 13 deals
currently consist of an Apple One subscription included with the Unlimited plan, but no discounts are present.
Vodafone's iPhone 13 offers
allow you to save from some plans, although the offer is not available for all the models in the series.
Virgin Mobile's iPhone 13 deals
are mostly reflected in cheap plans, so there's that. With all that being said, we can determine that O2 offers for the iPhone 13 are definitely worth it.
Are there any perks with the iPhone 13 on O2?
Yes. A lot of the O2 plans that the carrier offers with the iPhone 13 include cool extras like a Disney+ subscription, for example. The carrier also often offers discounts on the upfront cost, so you can save from your purchase. With all that comes O2's broad network coverage and 5G speeds. And, on top of all that, you get to customize your iPhone 13 plan with O2 to best fit your needs, if you feel like doing so.

Also, check out other UK carrier deals selections: