Best iD Mobile phone deals in March 2023
We may earn a commission if you make a purchase from the links on this page.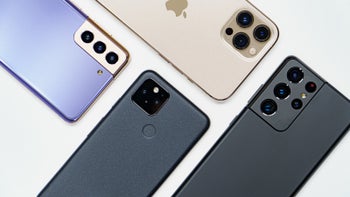 iD Mobile is an MVNO carrier that runs on Three's nation-wide network, with a focus on budget-friendly plans. The UK carrier offers a wide range of great value for money offers such as Pay Monthly, Pay As You Go, and even SIM Only plans.
The awesome thing about iD Mobile is also that it now offers unlimited data plans (which is not something all budget-friendly and smaller networks have), as well as Wi-Fi Calling on iD Mobile, another feature usually reserved for premium networks like EE, O2, and Vodafone. On top of it all, you get data rollback and bill capping.

The service provider offers both new and refurbished phones (refurbished phones are once used phones that have been renewed to look and work perfectly). However, refurbished phones on iD Mobile depend on stocks, so it might not have refurbished options available all the time.
With that being said, the carrier also offers a wide variety of generous deals on a plethora of new phones. Keep in mind that, understandably, all phone deals here are connected to a contract plan with the service provider.
Now, let's see what the best phone deals on iD Mobile are right now in the month of March 2023.

Best iD Mobile phone deals right now
Right now, iD Mobile deals range across almost its entire portfolio of great phones: from flagship devices to affordable phones. On top of that, you can also get additional discounts if you trade in your old phone with the service provider.

Important thing to mention: the monthly prices of all the phones listed here are based on the recommended iD Mobile plan, and will change if you go for another tariff. Now, onto the deals!
Best Samsung deals at iD Mobile
The new reigning Samsung flagships, the Galaxy S23 phones, are now available with great offers at ID Mobile. The newest foldables are getting some exciting deals at iD Mobile as well. Check out the conditions for the offers on iD Mobile's website.

Best iPhone deals at iD Mobile
Right now, iD Mobile doesn't have deals for iPhone models. However, prices are really good at iD Mobile anyway.

Best Google Pixel deals at iD Mobile
iD Mobile currently has the hottest Google Pixel phones, the
Pixel 7 Pro
and the
Pixel 7
, as well as the affordable
Pixel 6a
, with trade-in cashback offers and a gift voucher.
Best Motorola deals at iD Mobile
Luckily for those of you who want to trade-in your old phone and upgrade, iD Mobile has the same trade-in cashback offers for Motorola phones as well. Currently, the carrier is offering the
Moto Edge 20
, the Moto G22, and the affordable Moto G31 with trade-in cashback deals.
Are iD Mobile phone deals worth it?
Yes, iD Mobile phone deals are definitely worht it. Especially if you're not into the most expensive plans that other, bigger carriers in the UK such as O2 or EE offer. The great thing about iD Mobile is that it does have some of UK's most affordable 4G plans, while still keeping the coverage great thanks to the use of Three's network. Additionally, iD Mobile's strength is flexibility and value for money, and on top of that, deals also come with data rollover and bill capping (yes, not every carrier offers those benefits for affordable prices as iD Mobile).

Given the fact that iD Mobile is a smaller mobile network, it focuses on keeping everything simple and doesn't offer too much extras, but keeps the focus on budget-friendly plans, as well as budget-friendly devices. Both its SIM plans and long-term mobile contracts are on the budget-friendly side, so if you're looking for a carrier that won't have you drain out your wallet, iD Mobile is one of the best in the UK for you.

Can I keep my number if I switch to iD Mobile?
Yes. iD Mobile gives you the option to keep your number when you switch from another carrier. As with other carriers, you need to get your PAC code from your old carrier first. In order to do that, you can text PAC to 65075, using your old SIM. When you do this, your PAC code will be sent to you by a text message. Once you get this code, you can give it to iD Mobile when your purchasing your plan in store. If you already have your iD Mobile SIM card, you can enter the details on
iD Mobile's page for switching
.
After that, iD Mobile will take care of the transferring for you over the next working day. Understandably, if you give your PAC on the weekend or after working hours, it may take two working days for the switch to happen.

How easy is it to switch to iD Mobile?
It is very easy. iD Mobile gives you two options when you decide you want to switch to the carrier. First, you may want to keep your old phone number, and for that, the steps are explained in the section above. The other option you can go for is to ditch your old number and get a new one with iD Mobile.

In the second case (if you don't want to keep your number), you will need to get an STAC code. Do this by texting STAC to 75075 (you will receive the code via text again, similar to the section above). Then, you can give iD Mobile your STAC code, and that's it: your new carrier will take care of the rest for you.
How good is iD Mobile's network?
iD Mobile is good when it comes to flexible plans and cheap SIM deals, but that's not the only good thing about iD Mobile. The service provider actually has quite a good coverage and speeds, given the fact that iD Mobile's service is running on Three's nation-wide network. In terms of coverage, as iD Mobile uses Three's network, the numbers are the same as Three's.

More specifically, this means you get a 4G service that covers 99.8% of the population, which is pretty much in line with big rivals such as EE, O2, and Vodafone. iD Mobile also gas a growing 5G network, which is now available in more than 150 locations across the UK for super-fast download speeds.
What are the best handsets to get on iD Mobile?
Picking the best phone you want to get is no simple manner. After all, that's why we do all those phone comparisons (which you can check if you're wondering for your next phone). However, deals on iD Mobile are not enormous when it comes to the latest iPhones or Galaxy phones. Right now, the most notable deals are cashback offers on phones, and those are present for the Pixel 6 series as well as several Moto phones. With that being said, it's important to not look only at the price when picking a phone, but also making sure it meets your needs and performs well. Feel free to browse our
Reviews section here
if you're lost as to which phone you might want to get.
Does iD Mobile offer Wi-Fi calling?
Yes. Wi-Fi calling makes it possible for you to make and take calls using a Wi-Fi network instead of relying on cellular. You can also get text messages through the same Wi-Fi network. On top of that, it gives you clearer calls in a lot of places.

Which network does iD Mobile use?
iD Mobile uses Three's nation-wide network. This means you will be able to get access to Three's coverage and speeds. Three's 4G coverage is in line with the other big players O2, EE, and Vodafone, and its 5G network is growing, so you won't have to worry (well, unless you get to a very rural remote area, but that's a normal situation to lose signal no matter what service provider you're using).

Does iD Mobile offer early upgrades?
No, iD Mobile doesn't support early upgrades. If you need to know if you're eligible for an upgrade, you
can log in here
. On the other hand, you can make sure you receive emails when you're due for an upgrade. You can do so when you agree to receive marketing communications from iD Mobile (make sure your email address is valid). You can do so by logging in to the iD Mobile app or
My Account online
> My Account > Edit preferences > Keep me in the loop - where you need to select "Yes please!" to receiving marketing from iD Mobile.
Other UK carrier deals and content: