Best Giffgaff phone deals in 2023
We may earn a commission if you make a purchase from the links on this page.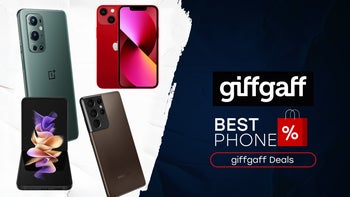 Giffgaff is one of the UK's smaller mobile carriers. But it offers low-cost SIM-only phone deals, which usually include a 5G-ready mobile data plan and unlimited texts and minutes. Despite being a smaller carrier, Giffgaff offers competitive prices on a variety of high-end smartphones, which are typically unlocked.
Therefore, if you live in the UK and you're searching for great phone deals, Giffgaff is the place to be. In this article, we continuously update and add the best offers from Giffgaff, so if you don't find what you're looking for now – stay tuned for more later.
Current Giffgaff phone deals
Best Giffgaff iPhone deals
Get the 128GB version of the iPhone 14 for £70 less.

The 128GB model of the iPhone 14 can now be yours for just £849 if you decide to pay it in full or for £34.34 per month if you choose to go for the monthly payment option.

We can say that the regular iPhone 14 is just a small facelift of the iPhone 13, but although both phones come with Apple's A15 Bionic chip, the one in the newer generation of iPhones is more powerful. So, if you want to upgrade from a much older iPhone and don't want to spend a fortune on an iPhone 14 Pro, the regular iPhone 14 is also a good choice.
At the moment, Giffgaff is also offering the regular iPhone 13 and the iPhone 13 Mini with a £50 discount.

This means you can now buy the iPhone 13 for £729 if you decide to pay the full price at once or £29.55 per month if you choose to pay via monthly installments. As for the Mini, it's available for just £639, or £25.80 per month if you go for the Pay monthly option.
Best Giffgaff Samsung deals
Buy the Samsung Galaxy Z Flip3 5G for less!

Giffgaff currently offers Samsung's trendy, folding Galaxy Z Flip 3 smartphone for just £799. You can alternatively get this smartphone in 24 monthly payments of £32.25.
Buy the Samsung Galaxy S21 FE for just £599 or via monthly payments of £24.13 with a £20 upfront cost.

Giffgaff is currently offering the Samsung Galaxy S21 FE with a nice £70 discount. This means that the Galaxy S21 FE can now be yours for just £599.
Get the Samsung Galaxy S22 5G for £749, or 24 monthly payments of £30.17 with £25 upfront cost.

Looking for a more traditional Samsung flagship? This is the one; the Galaxy S22 costs £749on Giffgaff right now, and doesn't involve confusing contracts, nor is the phone locked – it's completely unlocked to all networks. Don't like it? Giffgaff offers 21-days no quibble returns too. Also, thanks to the Samsung promotion we mentioned above, you will also receive a free Galaxy Chromebook 4 when you buy the Galaxy S22.
Are Giffgaff phone deals worth it?
Indeed they are, especially if you feel like the larger networks in the UK are a bit too confusing and not quite consumer friendly. The Giffgaff deals we have here, and will continue adding in the future, are rather simple to understand – you can buy the smartphone with a one-time payment of its full price, or – the route that's easier on the pocket – in monthly payments. You choose a data plan, and off you go.
So even if you want the most expensive flagship, you'll likely find it much more manageable to do so in small payments than its full price, which nowadays usually dances around a thousand pounds.
What network does Giffgaff use?
Giffgaff uses the O2 network, so whether you're in the UK or travelling around the EU, you're covered. By the way, even some of the bigger operators in the UK rely on others' networks, so this shouldn't be a surprise; it's common practice.
Does Giffgaff sell new phones?
Yes, Giffgaff does sell brand new smartphones, and those come with a standard manufacturer-backed warranty.
Does Giffgaff work on 2G phones?
Yes, if you have an older phone that tops at 2G, you'll be happy to know that it will work on Giffgaff. As we mentioned above, Giffgaff uses the O2 network, which does support 2G, 3G, 4G and 5G frequencies. So 2G is still an option, for now at least.
Does Giff Gaff support 5G?
Yes, as mentioned above, Giffgaff uses the O2 network, which currently supports 2G, 3G, 4G and 5G frequencies. Keep in mind that you need to have a 5G-ready phone to take advantage of the latter, and you have to turn on 5G in your Giffgaff settings. Instructions are available
here
.
Why are Giffgaff phones so cheap?
Giffgaff doesn't need to run physical retail stores, but instead sells both online and via O2 stores, among other third-party ones. Giffgaff doesn't need to run on maintain its own networks either, since it uses O2's network instead. Those, among other cost-saving factors can result in cheaper price tags from the smaller operators like Giffgaff, as compared to the big boys.
Can I keep my mobile number if I switch to a Giffgaff SIM-only deal?
Yes, you can. You'll just have to request your PAC code from your old operator, and text it to 65075 from your old SIM. When you activate your new SIM from Giffgaff, you'll get a temporary number, but from the
number transfer page
you can enter that PAC code we mentioned, and Giffgaff will do the rest, in order for your phone number to be transferred. Full instructions
here
.
Do I need an unlocked phone to use a Giffgaff SIM?
Yes, that's the case when switching to any operator. If your phone is locked to one operator, you'll have to request them to unlock it, before you can use it with another. This usually involves paying a fee. The whole process depends on your old operator, but the good news is that unlocking a locked phone is nowhere near as difficult (or impossible) as it once was. Just call your old operator and ask them what the process is and how much it might cost.
What's the Giffgaff mobile coverage?
Also read:
Best Three phone deals