orkut Mobile for Symbian S60 available now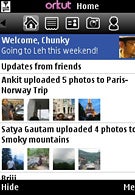 Orkut is a social network service entirely owned by Google. Apparently they think they have managed to attract more than enough users, so the company is rolling out an application to run on Symbian S60 cell phones with a friendly interface that closely resembles their Facebook app. Users are provided with a number of functions like picture sharing, status updates, search of other people who have signed up for the service etc. However, the more intriguing features are the options to make a call or send a text to your friends directly from within the application plus the opportunity to browse their status updates and photoalbums without being connected to the internet.
You can download Orkut for Symbian S60 free of charge on m.google.com/orkut using your phone browser. Please, share your opinion with us.
Source:
GoogleMobile