iPhone 3.0 OS brings scrubbing controls to music, video and YouTube players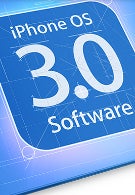 The iPhone 3.0 OS upgrade has brought more control to the fingertips of the device's user. If you are listening to music on the iPod player, watching a video or a YouTube clip, you can control the speed of scrubbing by holding the button on the seek bar. With your finger on the bar, you will have "Hi-Speed scrubbing". Dragging your finger down the screen will change the scrubbing to "half-speed". Slide down a little more and you will running at "quarter-speed", followed by "fine" which is the slowest option you have. Another time saving feature that Apple has tacked on to the new operating system.
Thanks to our tipster!