iOS 6 is now on 300 million devices, 60% of all existing iOS gadgets
18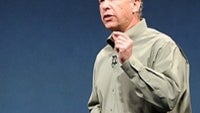 As Apple rolls out the iOS 6.1 update to devices, it has revealed some interesting numbers about the migration to iOS 6.0. The platform is now running on more than 300 million devices in just five months after the release of the update.
Apple's marketing head Phil Schiller says this
"may be the most popular new version of an OS in history."
Last week, Apple's chief executive Tim Cook mentioned that overall
500 million iOS devices have been sold
across the globe so far.
This would mean that the 300 million running the latest iOS 6 make up 60% of the total installed base, definitely a huge number that clearly shows Apple's attempts to not let its mobile operating system get fragmented.
We'd attribute this high adoption rate to the easy over-the-air installation process and the simply no-sync updating.
source:
Apple