iMessage outage today affected 30% of users
18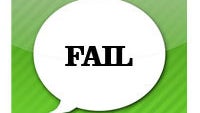 When we hear about a messaging platform failing, like Gmail or Facebook, usually service is affected for a small percentage of users, but today was one of the bigger outages we've seen in a long time. Apple's iMessage service went down this afternoon for about 45 minutes, and the outage affected about 30% of users.
Apple's official Services, Stores, and iCloud indicator showed that service was out for "some users" from around 12:30PM-1:15PM Pacific Standard Time (PST), but various reports said that problems persisted until as late as around 3PM PST, and the "some users" that were affected is said to be around 30% of iMessage users, which is a substantial number.
There's no word on what caused the problem, but we'll let you know if Apple releases a statement.