iFixit tore down the OnePlus 2, shared the graphic images, and gave it a better repairability score
3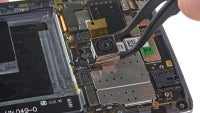 We've already seen how beautiful the OnePlus 2 is on the inside, but this doesn't mean we should be missing out on iFixit's teardown ordeal. Aside from gorgeous pics of meticulously arranged - and then disassembled - components, iFixit gave the OnePlus 2 a better repairability score than its predecessor had - this time around, it's 7/10, rather than the 5/10 that used to be.
The technicians cited the use of a single type of non-proprietary screw heads, modularity of components, and the simple USB port assembly as points of particular ease. However, the LCD and digitizer glass are fused together, and need to be replaced as a single part, which means you have to look after that screen, or face an expensive replacement.
The full gallery of images is available at iFixit's website, from the source link below.
source:
iFixit