Cricket puts Amazon Prime Day to shame with incredible LG V35 ThinQ deal
6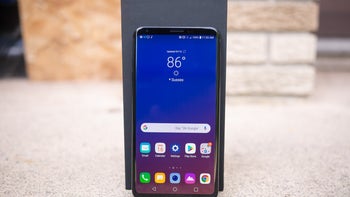 Originally priced at an excessive $900, the high-end
LG V35 ThinQ
has been on sale a number of times lately
at pretty hefty discounts
from
multiple major retailers
and
top-rated eBay sellers
.
Unsurprisingly, the 6-incher is available for 48 hours only at a lower than ever price of $399.99 in an unlocked variant meant exclusively for
Amazon Prime
members, but believe it or not, you can actually save an additional Benjamin elsewhere right now.
Cricket Wireless is currently charging a measly $299.99 for the summer 2018-released Snapdragon 845 powerhouse, and the only special condition you need to meet is activate the handset on a new line or upgrade an existing line of service. You don't have to trade anything in, port in a number from a different carrier, or jump through any other hoops. Of course, "qualifying" service is required, but you're free to choose whatever prepaid plan fits your preferences best from 2GB, 5G, Unlimited, and Unlimited Extra options costing anywhere between $30 and $60 a month.
PhoneArena is scouring Amazon and all major retailers' sites for the best Prime Day deals. Out team is rounding them up into a single easy-to-use hub, to help you find the offers that matter to you.
For those who don't know, Cricket is a wholly owned AT&T subsidiary that doesn't do contracts or monthly installment plans, promising the same nationwide coverage as its parent company.
Meanwhile, the
V35 ThinQ
is naturally no longer the fastest steed in LG's US stable, but it's still a very impressive phone (at least at a deeply discounted $300 price point), packing 6GB RAM and a decent 3,300mAh battery in addition to the aforementioned Snapdragon 845 processor, while sporting a beautiful P-OLED display with 2880 x 1440
pixel
resolution and razor-thin bezels, a dual 16MP rear camera setup, and a premium design combining glass and aluminum to blend fashion and strength.