Amazon Kindle, Fire tablets, Echo speakers Black Friday 2021 deals: What to expect?
0
We may earn a commission if you make a purchase from the links on this page.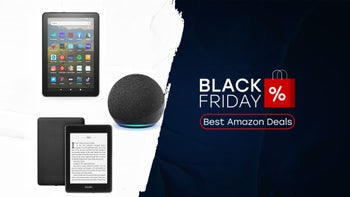 Black Friday is long over and now's the time to reflect and analyze everything that happened during last year's shopping event. It's never too early to start prepping up for Black Friday 2021 and judging by the deals we had last year, this year the event will be even bigger.

Let's take a look at the deal that sealed last year's Black Friday and get some insight on what to expect this year. We're focusing on Amazon gadgets in this article - namely Kindle, Fire and Echo devices.
Where to find Amazon Kindle, Fire, Echo Black Friday deals?
Well, this one's easy. If you're looking for
Black Friday Amazon deals
, you'll most probably find those on... Amazon! Mind blown! Jokes aside, Amazon can be a jungle and we're going to organize all meaningful deals neat and tidy here. Meanwhile, you should stop by this article from time to time, as Amazon deals and promos are on almost all the time.
Amazon Kindle Black Friday sales
There was a bunch of Kindle sales running during Black Friday and most of them were bundles. For example, the Kindle Paperwhite Essentials Bundle was available with a very nice discount. It included a Kindle Paperwhite - Wifi, Ad-Supported - an Amazon Leather Cover, and a Power Adapter. There were also colors to choose from for the cover (leather or fabric).
There was a nice Kindle Oasis deal too. It's a step-up from the Kindle Paperwhite offering more screen estate, a very nice aluminum body, and even water resistance. Once again, Amazon was throwing in a charger and your choice of a fabric or a leather cover.
If the most affordable Kindle is the one you're after, the regular Amazon Kindle is the one for you. It has an adjustable light so that you can read comfortably for hours—indoors and outdoors — and a 167 ppi glare-free display that reads like real paper. Last year, even this basic model got discounted so you can expect the same treatment on Black Friday 2021.
Amazon Fire Black Friday deals
If a more traditional tablet with extra features is what you're looking for, you should be on a lookout for an Amazon Fire tablet. The latest Fire HD 8, Fire HD 8 Plus, and Fire HD 8 Kids Edition are brilliant devices and there were plenty of deals on them during Black Friday.
Amazon Echo speakers and Echo Show Black Friday discounts
Amazon's most popular smart speaker — the Echo Dot — is also its smallest. It offers loads of cool features and a brilliant price too. There was a cool Echo Dot Black Friday deal last year - this little Alexa-powered gem was on sale for practically change money.
If you're more into bundle purchases, Amazon has you covered on Black Friday. This previous-generation Echo Dot was on sale last year and you in combination with an Amazon Smart Plug. This bundle gets you something to control via your Echo and kickstart your smart home endeavor.
If you want to add a nice display to your Echo experience, the Amazon Show deals were the best possible option. The Echo Show 5 smart display was up for grabs at a discounted price during Black Friday.
The Echo Show 5 was available in a bundle, too. The pint-sized smart display was also available with a similarly miniature Blink Mini indoor smart security camera. The discount was not huge but people could still save some money for another smart gadget, like a smart bulb for example.
Much like its smaller sibling, 2019's Echo Show 8 hasn't received a sequel, but it was cheaper than usual during the
Black Friday event
last year. We can expect more of the same when Black Friday 2021 arrives later this year.
If you like quality sound, there were deals in this department as well. Amazon had the Echo Buds and Echo Studio, both of which boast Alexa integration, on sale last Black Friday. The Echo Buds use Bose Active Noise Reduction Technology and sealed in-ear design to limit background noise, while the Echo Studio features 5 speakers for a 3D audio experience.