Prime Day deals on laptops, MacBook, Chromebooks, gaming laptops
0
We may earn a commission if you make a purchase from the links on this page.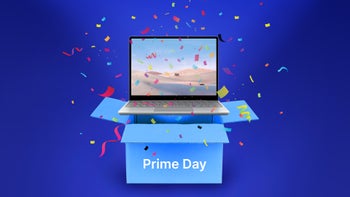 It's the second day of the Amazon Prime Day deal bonanza, and almost all of the great laptop deals are still available. Thus, if you've been holding on to your laptop for a few years now and are looking to upgrade, now is the time to check out the best Prime Day laptop deals and find one that strikes your fancy.
Just like last year, we are happy to show you the best laptop, Chromebook, and MacBook deals on Prime Day. But before that, you should know that in order to take advantage of these deals, you must be an Amazon Prime member. Don't do it just for the shipping benefits, but for the multitude of other invaluable perks -
you can check them out here
.
A lot of laptop manufacturers are trying to appeal to customers by offering massive discounts on their products, and that's only natural. MacBooks, Surface laptops, Chromebooks, and all other the other wares by Dell, HP, ASUS, Lenovo, Acer, Razer, and so on. The best Amazon Prime Day laptop deals will be highlighted beneath. Think you might be better off with an iPad instead? There are plenty of
iPad deals
to look at, too!
Amazon Prime Day deals on Chromebook laptops

Admittedly, last year's Amazon deals on Chromebooks weren't great, with the best Google's Pixelbook Go maxing out the deals at $200 off. However, this year is definitely looking better, with higher sales than that appearing already—and Prime Day has barely started! Some of the best laptop deals can be found here:

Amazon Prime Day deals on Windows and gaming laptops
Last year, we saw massive savings on this most diverse of tech categories. And it seems like this year, we're getting there too! Here are the deals that are in circulation right now, and they're only growing:
Amazon Prime Day deals on Apple MacBook laptops

You can never be sure which year you'll hit the jackpot with Prime Day Deals on Amazon for that MacBook you've always wanted. Sometimes the deals are great, sometimes you can barely even get 10% off. Here's everything that has popped up for Apple's original flagship device so far:
Amazon Prime Day deals on Microsoft Surface laptops

Microsoft has continued refining its hardware lineup over the years, and Surface laptops are now some of the most popular Windows laptops on the market. As we've seen from the past, some of the very best Surface laptop deals tend to crop up on Prime Day.











Target Deal Days 2021: Laptops

Target's Deal Days 2021 are live now. The shopping bonanza will run from June 20 to June 22.


Walmart Deals for Days: Laptops

Walmart's Deals for Days will run for four days only, but get this, there's a very healthy amount of deals on Chromebooks, gaming and general-purpose laptops available.

Best Buy laptop deals 2021
Now reading