The best new apps for iPhone and Android, October 2018
9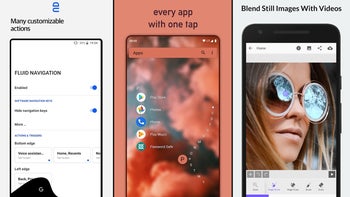 Well, that was a crazy September! New iPhones, new LG
V40 ThinQ
, and tons and tons of new apps. Well, yeah, apps are a given every month, actually.
And since there's so many of them, we try to comb through and find the few good ones that you may be interested in. This month, we have a couple of cool launchers for Android, an utility app that gives you gesture-controls on any Android phone, some new photo-editing tools, and a couple of new musician apps for iOS.
Check them all out below, see which ones you like, and let us know if there's a new app that's cool, but we happened to miss!
Utility
1. Fluid Navigation Gestures
(
Android
) replaces your virtual navbar with navigation gestures a-la
iPhone X
and Android Pie. You can customize them fully — swiping on the bottom left, bottom right, bottom center, from the left of the screen or the right of the screen can all mean different things, from going back, home, to recent apps, to launching your favorite app of choice.
2. Rootless Pixel Launcher
(
Android
) as the name suggests, this is a very convincing Pixel launcher. You've got the white app drawer, a bottom-placed Google search bar, and all the Pixel animations as long as you are on the home screen or in the app drawer. Supports icon packs.
3. Niagara Launcher
(
Android
) is a cool and focused launcher. It's basically one big app drawer, which looks super-tidy and clean. Your home screen shows you your favorite apps and a weather widget, that's all. Swipe along the side of the screen and an alphabet slider reveals itself, giving you access to all your apps, sorted by the first letter of their names.
4. Inware
(
Android
) is a utility app that gives you quick, at-a-glance analytics of your device. From its hardware components to the software it shipped with, to the one you have on it now — this app will bare all.
5. PlanKit
(
iOS
) with Apple's ARKit allowing developers use the iPhone's impressive AR capabilities, we've begun seeing some pretty useful apps pop up. This one will let you measure your entire home, creating a virtual floorplan with (almost?) exact measurements. Useful, indeed!
Lifestyle and wellness
1. Zodiask
(
iOS
) is an astrology app with a clean and snappy interface. You can very quickly check what the stars are saying about you for this day, week, or even the present year. There are also advanced features like sign compatibility analysis and Siri integration, so you can have the voice assistant read out your horoscope when requested. The basic version will give you the essential horoscope features, while a pro subscription will get you love, health, and career horoscopes, tomorrow's horoscope, an AR crystal ball to answer the tough questions you have, and the ability to add multiple signs to your "favorites" or "relationship" tabs.
2. Focus
(
iOS
) is an interesting app for speed-reading. Instead of trying to battle daunting paragraphs, Focus will give you a single line of text and allow your eyes to stay in one spot, so you should, theoretically, burn through more text without getting much fatigue. The app has an integrated web browser so you can reach any article on the web, but it's a bit hit-and-miss when trying to locate an article within the page. Sometimes, it focuses on the comments and completely skips the actual article.
Image editing
1. StoryZ
(
Android
) lets you turn any old photo into a moving version of itself. With the help of a couple of simple and easy-to-use tools, you can get certain elements of your photos to "melt away" in a liquid
motion
, or embed videos inside parts of your pictures
2. Polarr Deep Crop
(
iOS
) will take your photos and, with the help of an AI which learns from pro photographers, give you examples of how a professional would crop them. It's an interesting tool to help you experiment with and explore cropping options you may have not considered before.
3. Enlight Pixaloop
(
iOS
) will create moving images from your still photos. You need to mark which areas of the picture you want "liquified" and which areas should remain static. Apply filters and effects to taste and you can get some pretty impressive GIFs!
4. FilmLab
(
iOS
) will allow you to preview those old family photo negatives. Just lay the negative on a backlit table and use one of the app's color-inversion modes to see how the photos will actually look if developed at a photo studio right now. Even better — you can capture photos straight from the reel on your iPhone's camera. Of course, they will not be super-detailed, but at least it's one way to very quickly digitize your old analog memories!
5. Filterious
(
iOS
) offers a large library of filters that will apply a dusty, 90s feel to your photos. With grain that is adjustable to taste and an ever-growing selection of filters, there's plenty of nostalgia to go around.
Music and multimedia
1. SW True-Fi
(
Android
) is a sound-enhancing app that attempts to enhance your listening experience. Customization can be based on headphones and listener's own age and unique hearing.
2. Metronome Plus
(
iOS
) is a very pretty, very clean metronome for you iOS musicians out there.
3. Scythe
(
iOS
) is a very cool, powerful, and flexible synth for iOS. Supports MIDI and inter-app-audio so you can instantly fit it into your workflow.