The best (paid and free) sleep tracking apps for Apple Watch
1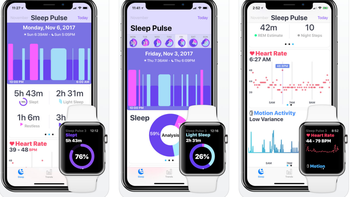 With so many smartwatches and fitness trackers on the market, finding the best app or program for you can be a bit overwhelming. Fortunately, if you're an Apple Watch owner, you can enjoy one of the most supported and regularly updated platforms for sleep tracking with WatchOS, so you have tons to choose from. Even better, we already did all the research and narrowed down the best options for you!
Whether you're looking for a simple, free app to give you some basic insight on your sleep, or a detailed, monthly sleep improvement program, the right app for you (and your Apple Watch) is just a few taps away. Here's your comprehensive look at the best sleep tracking apps and programs compatible with the Apple Watch.
Sleep Pulse 3, $3.99

Among paid apps, Sleep Pulse 3 will be your most complete sleep tracker, though it isn't automatic. By this we mean it can track all sleep stages (light sleep, deep sleep, awake, and REM) as well as logging motion data, heart rate data, sleep duration, and time to fall asleep – almost all the requisite metrics for a comprehensive snapshot of your sleep. Surprisingly, Sleep Pulse lacks sleep efficiency ratings, but does very clearly lay out the graphics and accompanying percentages which detail motion data, heart rate, restfulness, and the aforementioned sleep cycles. This relevant info and the ease with which it can be read will give you a fairly good understanding of your sleep efficiency, regardless.
Pros:
• Tracks all sleep stages
• Provides a comprehensive snapshot of all your important sleep metrics
• Easy to read, easy to use

Cons:
• No automatic tracking
• No sleep coaching
Sleep Tracker, $1.99

When it comes to straightforward, automatic tracking, Sleep Tracker is one of the best paid options. Since tracking is automatic, Sleep Tracker offers the ability to detect naps as well as nightly slumbers, while also enabling users to edit any logged sessions and adjust tracking sensitivity in case of any errors. Among the sleep stats tracked are sleep duration, light sleep and deep sleep, heart rate, time to fall asleep, and time spent awake – like we said, pretty straightforward. All sleep data can be synced with Apple Health.
Graphics illustrating these metrics are similarly direct and easy to read; heart rate and sleep stages are detailed in a single timeline graphic. Below which is a time breakdown of each stage. Unfortunately, REM sleep isn't tracked, but heart rate and sleep duration can be analyzed over longer periods of time via the same easy-to-read graphs.
Sleep coaching to provide personalized tips and insight is unfortunately not a feature in this paid app's repertoire, but as far as simple, automatic tracking goes, add REM detection and this would be an easy favorite for us – even for a couple bucks.
Pros:
• Automatic sleep tracking
• Provides sleep coaching and personalized tips
• Easy to read, easy to use
Cons:
• Doesn't track REM cycles
SleepX: Sleep Cycle Monitor, $1.99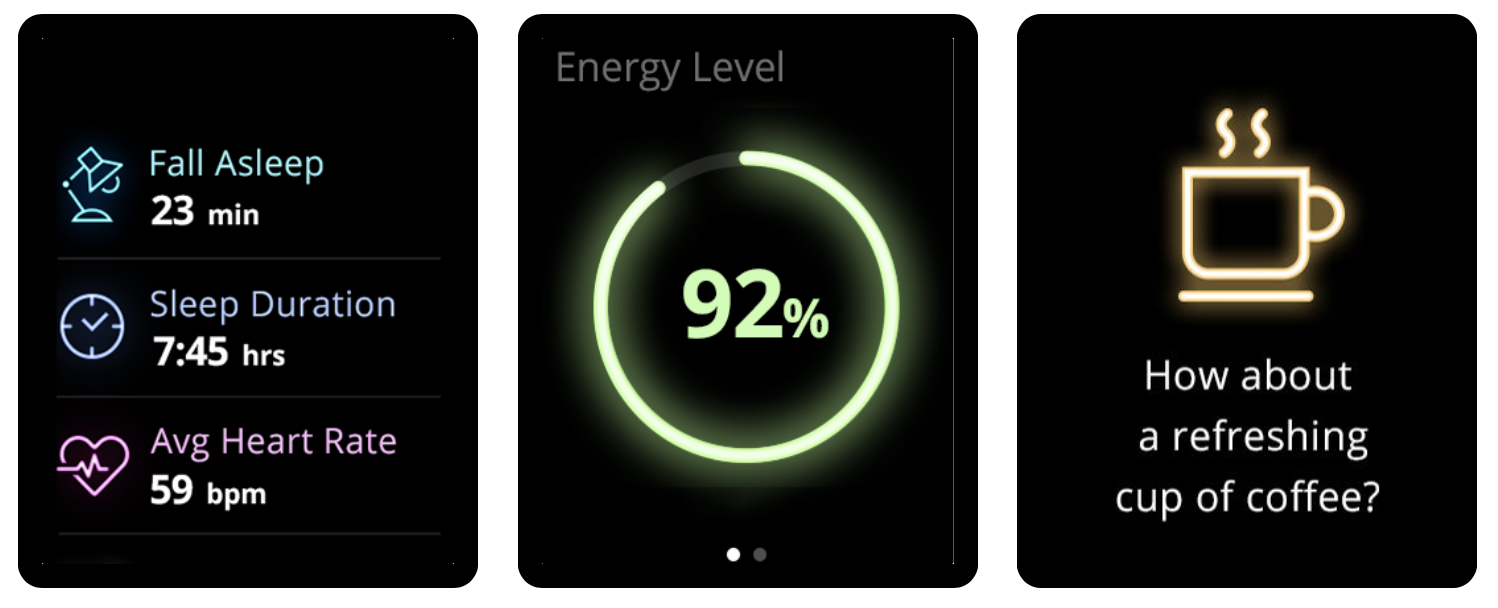 SleepX (pronounced Sleep-Ten) is the app that claims it can help you live X times better. Its main focus is tracking your energy levels – based on manual user input – throughout the day as well as the quality of your sleep at night. In terms of sleep tracking, SleepX requires manual prompts to begin and end sessions, and doesn't detail sleep cycles but will provide a graph showing the times you woke up, were asleep, and exhibited movement (restlessness). Sleep data can be synced with Apple Health, as well. Also logged is the amount of time it took to fall asleep, total sleep duration, average heart rate, and an "energy level" rating based on 0 – 100%. This is meant to give you an idea of how re-energized you should be for the day, but the app also relies heavily on user input throughout the day in order to give you a complete energy assessment, and tips to boost energy during the day.
That about does it for SleepX; it's an app focused on the basics. It won't be the most insightful or informative sleep tracker, nor will it likely improve your slumbers, but it will make you more aware of your sleep and energy levels throughout the day. Is that worth $1.99? Perhaps for some. Will it improve you're live X-fold? Probably not.

Pros:
• Automatic sleep tracking
• Provides sleep coaching and personalized tips
• Easy to read, easy to use
Cons:
• Doesn't track REM cycles
AutoSleep, $2.99

As the name suggests, AutoSleep is an automated sleep tracker which you can use with or without your Apple Watch. Of course, Apple Watch-assisted tracking will produce more data, as opposed to sleeping sans the wearable, which only tracks sleep times and duration. Otherwise, all that's required to track is simply wearing the Watch to sleep and, in the morning, AutoSleep will have a report ready for you, on your phone or watch, to see how your night went. This report will include a sleep efficiency rating, duration, times awake, duration of "quality" sleep, as well as deep sleep, and average heart rate. Actual distinctions in sleep cycles which delineate REM, deep sleep, and light sleep aren't featured in AutoSleep, which is a pretty big drag considering it's a paid app, but it does sync info with Apple Health.
In fact, Autosleep doesn't offer much else beyond this. Neither sleep coaching nor any kind of further sleep analysis takes place in this app. So, while $2.99 gets you a simple, organized, automatic snapshot of your nightly slumbers, a free, manual-tracking app like Pillow gives you much more.
Pros:
Automatic sleep tracking
Sleep efficiency ratings
Easy to use
Cons:
No tracking of sleep stages
No sleep coaching
Pillow – Free, Premium for $4.99

Pillow may be the Apple Watch's most comprehensive, free sleep tracking app. With the ability to differentiate sleep cycles (light sleep, deep sleep, awake, and REM) and provide heart rate information throughout each phase, Pillow gives users a solid foundation of qualitative sleep data from which to learn as well as a useful smart alarm function. Even better, the app produces its own assessment of your sleep which it delivers to you in the form of a 0 – 100 percentage. Additionally, Pillow provides a recording service to log sound events throughout the night, allowing users to analyze and discover what may be interrupting their sleep. Unfortunately, automatic sleep tracking isn't included in its repertoire.
The premium upgrade for Pillow adds some useful perks, such as personalized, scientifically-backed sleep and lifestyle tips and insights to get better sleep, as well as a suite of sounds and music to encourage falling asleep and gentler wake-ups, and longer-term sleep trend analysis (weeks, months, years). Also unlocked is are three preset nap-tracking modes which aim to help you achieve the most effective nap based on how much time you have and how tired you are. Seemingly inexplicably, Health integration is also a locked feature unless you pay for the premium upgrade.
Pros:
Tracks all sleep stages, including REM
Sleep efficiency ratings
Sound recording for noise events interrupting your sleep
Sleep coaching (Premium only)
Napping modes aid you in maximizing your short slumbers
Cons:
Integration with Apple Health is reserved for premium users
SleepRate – Free, Tiered Subscriptions at $9.99/year, $34.99/year, and $89.99/year

If you're looking for a free sleep tracker to simply track sleep duration, awakenings, and sounds, then SleepRate might be your cup of tea. Tracking isn't automatic and sleep stages aren't tracked, neither is restful vs. restless sleep, but time to fall asleep, sleep duration, number of awakenings, and average heart rate combine to give you a sleep efficiency score. Unfortunately, graphs detailing your heart rate throughout the night are reserved for premium users, as is the ability to sync sleep session with Apple Health.
SleepRate does enable sound tracking in the free version though and affords users a graph to see when noise events or snoring may have occurred throughout the night. Sounds events are also recorded so that users may listen to them the next morning and determine what pesky things may be interrupting their sleep. Users can jot down personal notes and dreams for each sleep session, as well.
All of this information is clearly laid out in the companion app, and easy to look through at a glance. Deeper sleep analysis and insights are offered, but at a price. In general, long term data analysis, sleep assessments, daily insights, and personalized advice to improve your sleep are all locked away for those who'd rather not pay for sleep coaching. SleepRate offers tiered, yearly plans for those looking for some deeper insights. For $9.99 a year "Sleep Monitoring" gives access to your nightly heart rate info, as well as daily and weekly sleep insights, and data exporting. $34.99 a year "Sleep Assessment" steps things up by adding in-depth sleep evaluations with detailed explanations, videos, and advice, as well as more personalized and specific insights to your sleep problems. Lastly, there's "Sleep Therapy" which is an $89.99 a year plan that takes all that and adds personalized sleep plans with step-by-step guides, and of course, deeper, more specific insights.
We can certainly understand the aversion to paying for such a service if it's not need, but if you're interested in enrolling in a better-sleep program, at least you know you have full Apple Watch support here, though alternatives like Sleepio can offer some levels of Watch integration.
Pros:
Sound recording
Offers comprehensive sleep coaching and sleep programs (subscription only)
Easy to use app
Cons:
Lacks sleep stage analysis
Graphs detailing heart rate data reserved for premium users

Sleep Cycle – Free, Premium for $29.99/year

For those who simply want to know their sleep duration, quality, and if they're snoring, there's the very straightforward Sleep Cycle app. Tracking with Sleep Cycle isn't automatic, and while the app does offer you a line graph illustrating your peaks and valleys between the stages of wakefulness, sleep, and deep sleep throughout the night, it's not particularly informative. The app won't record your noise or snoring events, but rather tell you simply how many minutes were spent snoring through the night. This is just as plainly communicated in the app as sleep duration, time in bed, and sleep quality; the information doesn't even take up the entire screen, which can be nice. The only other feature offered by the free version of Sleep Cycle is a smart alarm, which, as the rest do, aims to wake you up at your lightest sleep stage closest to your wake-up time.
Aside from this, nothing else is offered in the quest to improve sleep quality. That is, of course, unless you enroll in Sleep Cycle's yearly plan. Analytical insights are increased exponentially with this plan, affording users specific, individual graphs which detail how each lifestyle, environmental, or other external factor affects their sleep nightly, and over time. Such external factors include moon phases, air pressure, weather, step count, and heart rate. Sleep Cycle's premium plan also allows users to input data on what they did before bed to have the app determine if, over time, each particular activity has affected their sleep positively or negatively, conveyed by a positive or negative number percentage.
Longer term analysis and graphical trends for all of this information is also included with the premium plan. Other perks include snore recording, auditory sleep aids, and synchronization with RunKeeper, which helps factor activity into your sleep equation, as well as Phillips Hue integration so that your Hue lights may be used to wake you. Sleep coaching (tips and advice) isn't included, but the high level of well-organized, relevant data serves as a high-value proposition for upgrade and a big mitigating factor for the lack of personalized sleep coaching. If you like data, you'll love premium Sleep Cycle.
Pros:
Tracks some sleep stages
Sleep quality rating
Utilizes user input as well as weather info to see what daily, external factors influence their sleep (subscription only)
Snore recording (subscription only)
Auditory sleep aids (subscription only)
Smart home integration (subscription only)
Cons:
Sleep stage data is hard to read
Doesn't track REM sleep
Sleep++ – Free

Being one of the earlier sleep tracking apps for Apple Watch, Sleep++ has one main advantage over most others, and that's automatic tracking. Manual tracking is an option too, but this recent update has certainly helped move Sleep++ ahead on the list. You can also edit logged sessions if you find that they're running a bit longer than your actual slumber. Health integration is another perk, though this is a requisite feature for most tracking apps.
Despite being one of few Apple Watch apps to offer automatic tracking, sleep analysis on Sleep++ is far from the most in-depth experience. Graphs will only show restless vs. restful sleep, and awake times, though they are easy to comprehend. Bed-time reminders and the ability to set sleep goals are the only other features of Sleep++ – no sleep quality reports, tips, or analysis is given to help the user contextualize or improve their sleep. Kind of a bummer that the trade-off here is less information for more convenience – a trade-off many users may not be inclined to make.
Pros:
Automatic tracking
Simple, straightforward data
Cons:
No sleep scores
No coaching/tips
No sleep stage tracking
Sleep Watch – Free

Sleep Watch by Bodymatter is another app that enables automatic sleep tracking sessions and allows you to edit detected sleep events. Much like Sleep++, Sleep Watch also only provides data on restless vs. restful sleep but adds in heart rate tracking to boost its data points and therefore help give users more insight on what may be ailing their sleep.
The graph displayed within the app which conveys this information isn't the most intuitive, though. The app uses a mercurial gradient of blue colors to define the spectrum of your sleep in terms of restfulness. This makes it a bit hard to gauge your sleep cycles and efficiency, even when simply trying to determine between restful or restless sleep – the only measure this app offers you. Fortunately, percentages are calculated for you, so you don't have to guess, as well as total time spent in either of the two detected states. Total sleep times can also be synced with Apple Health.
Sleep Watch does go beyond Sleep++'s feature set in a couple other ways, as well. For instance, Sleep Watch also keeps tabs on your sleep consistency and "sleep debt" helping you to realize when you've been neglecting your Z's. Beyond this, the app also lends some bits of personalized insight on the sleep you've had and what you can do to improve it.
Pros:
Automatic tracking
Displays restful and restless sleep time
Offers some sleep tips
Cons:
Very hard to read graph data
No sleep stage tracking
Conclusion
As important as sleep is, taking its tracking and maintenance seriously is a worthy and, depending on the app you choose, very easy way to improve your health. Apple's Watch may be one of the best platforms for this and the diversity in apps and programs show that it not only offers the most options, but the most comprehensive tools for any user. So, what kind of tracker are you?