Best Amazon Prime Day cell phone deals: Samsung Galaxy, LG, Motorola, OnePlus, and more
0
We may earn a commission if you make a purchase from the links on this page.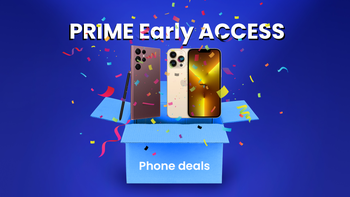 This article will be regularly updated when new deals show up or expire.
Amazon Prime Day
is now here, and all major retailers are giving deals on phones right now. Amazon, Best Buy, Walmart, Target, and big carriers are having deals for the shopping event, so if you've set your eyes on buying a smartphone this summer, Prime Day is your time to do just that on a bargain.
Here, we will have the best deals on phones you need to know about during this year's big shopping event. The best deals across all major retailers and carriers will be present here, so you can know which offer is the best on the product you want to purchase.
So, without further ado, let's jump straight into what we have so far!

Best Amazon Prime Day discounts on Samsung Galaxy phones
Best Buy and Amazon both currently have great discounts on Samsung Galaxy phones for Prime Day:
You can currently score good discounts on some of the affordable Samsung Galaxies as well:


Best Prime Day discounts on iPhones
Usually, the best
Prime Day deals on the iPhone
are for refurbished units and for now, we are not getting a lot of iPhone Prime Day deals. Mainly, these deals are for refurbished or pre-owned units, but some new iPhones are also getting discounted:
Meanwhile, check out our dedicated
Apple Prime Day deals
and our
Prime Day iPhone deals
articles for more great deals on Apple products.
Amazon Prime Day: best Google Pixel deals
Discounts on the last-generation Pixel phones were pretty good last year, especially on the
Pixel 4 XL
, which was reduced by $450. That was one sweet deal for Pixel fans. This year, the
Pixel 5
and
Pixel 4a 5G
are currently receiving nice discounts.
Here's what we have for now on Pixel Prime Day deals:
Best Prime Day deals on OnePlus phones
Things were rather humble over at OnePlus with both the
OnePlus 8
and 8 Pro receiving a $100 discount last year. It's not uncommon to see bigger discounts even on the official OnePlus website on newer models, so keep your eyes open if that's the brand you're eyeing.
Currently, OnePlus is offering some generous discounts on the
OnePlus 8
series; but the
OnePlus 9
series retail at regular price at the moment.
And Amazon has the OnePlus 8 at a generous 50% off discount.
Best deals on LG phones for Prime Day
Right now, there's not a lot of deals on LG phones, Amazon is offering the LG Velvet with a discount, as well as a renewed LG V60:

Best Amazon Prime Day discounts on Motorola phones
In a few days, when Prime Day sales start, we are bound to see the already affordable Moto phones to be even cheaper. Over at Best Buy, some affordable models are generously discounted even right now:

Best deals on affordable Nokia phones for Amazon Prime Day
As with Motorola, Nokia's current lineup is also primarily focused on the budget segment and the discounts are expectedly much smaller. Still, even in percentages, most Nokia phones were just about 10-20% cheaper than their regular price. Not really savings worth waiting for.
Right now, Amazon has the
Nokia 8
.3 5G discounted.
TCL has also now discounted some of its phones for Amazon Prime Day. With coupon code "TCLPRIME" you are able to score the deals here below:

Prime Day phone discounts on Walmart and Best Buy
Thanks to Amazon's enormous influence on the retail market, its Prime Day has spilled over to other retailers in various forms. Walmart and Best Buy usually come up with their own shopping events that "coincidentally" happen at the same time as Amazon Prime Day. Their deals on phones during this shopping season are listed here above, but they also sell other products as well. That's why we have dedicated articles that seek out the best discounts from them. You can check them out below:
Deals around the year
If you intend to buy something outside the usual discount seasons, there are still ways to save. We have a constant watch on products beyond smartphones, including
Apple Watch deals
and
iPad deals
. You can easily find any deals on our website by searching using the "deals" tag.