Best Amazon Prime Day Anker deals: gadgets on the cheap!
0
We may earn a commission if you make a purchase from the links on this page.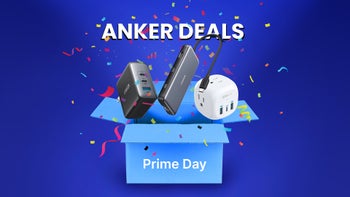 Amazon Prime Day 2020 is gone now, but we are starting to look forward to
Amazon Prime Day 2021
, and it will most likely be in a few months. Once the time comes, we will include here the best deals on Anker devices for Amazon Prime.
###
Amazon Prime Day is upon us and discounts are coming at us from all directions. If you can't wait until Black Friday, now is the time to buy that piece of tech you've been eyeing for a while. If you're just getting into the shopping extravaganza, here are some of our articles with the best Amazon Prime Day deals right now:
Our Best Amazon Prime Day deals picks:
Anker is a company that makes products we love to recommend. They offer quality at very affordable prices even without discounts but for Amazon Prime Day, the value is getting off the charts. Keep in mind, that most of these are Lightning Deals and will be gone quickly. We'll try to update the list as frequently as possible to keep the active deals around. If you don't see a link for the deal, it means it's already gone.
But enough talking, let's get to the deals!
Anker Roav Dual Dash Cam
Anker might be known for its chargers and power banks, but the company makes a wide variety of products, including dash cams. This model has two cameras, one looking at the road ahead of you and another keeping an eye on the interior of the vehicle. It has G sensors that can detect a car crash and store the footage before and after the event, preventing it from being overwritten. Right now, yo can save $60 and get it for less than $100.
Anker Rechargeable Bolder LC90 LED Flashlight
Yep, Anker also makes flashlights, apparently. The worst thing about flashlights is that you constantly have to change the batteries. With this one, you get hours of use and then you can recharge it via USB, just like your phone. Unfortunately, the port isn't USB Type-C, but still, the convenience is there. The flashlight is also super bright and durable, perfect for your outdoor adventures.
Anker Nebula Mars II Pro Portable Projector
Anker's Lightning deals are going through the different projectors the company is offering and now the Nebula Mars II Pro is on stage. This one is bigger and heavier but offers image size as big as 150 inches and it's still easy to carry around with the built-in handle. It also has speakers and a battery inside the case, so you have everything needed for movie night under the stars.
[EXPIRED] Anker Nebula Capsule Wi-Fi Mini Projector
This tiny projector will bring a cinema-like experience everywhere you go. Hang a white sheet or just use a nearby wall, with the Nebula Capsule, everything can be a screen. Sure, it's not the most high-resolution one at just 480p, but for entertainment purposes it will work just fine. The image size maxes out at a 100 inches which is quite large. Best of all, it won't set you back thousands of dollars. Now you can grab it with a cool 32% discount and brighten up camping trips for years to come.
[EXPIRED] Anker Soundcore wireless earbuds
Anker has a few sets of wireless earphones but right now, you can get the Soundcore Life P2 and Soundcore Liberty Air 2 with a nice Prime Day discount. You can't go wrong with either pair but of course, the more premium model, the Liberty Air 2, will be the better choice unless your budget is extra tight.
[EXPIRED] Anker Soundcore Trance Bluetooth Speaker
If you're looking for a portable party speaker, look no more! The Soundcore Trance comes with the necessary sound, the lights and the battery life to keep you and your friends entertained through the night. There's no need to worry about it getting wet or rolling in the sand, it will keep working just fine. Flex on your friends with this all-in-one party machine and you'll get invited every time!
[EXPIRED] Anker Soundcore Boost 20W Bluetooth Speaker
The Soundcore Boost 20W is a popular budget Bluetooth speaker if you're looking for some extra bass in your tunes. With Anker's Lighting deal you're saving $10, but compared to the speaker's usual price, that's still a good amount. It's a great pick up for a dorm room that's seeing guests often.
[EXPIRED] Anker Soundcore Infini Pro Soundbar
Many TVs these days have good image quality but subpar speakers. With this soundbar, you can add some extra oompf to your home setup and enjoy better sound without breaking the bank. It's Dolby Atmos certified and you can connect it to your phone to play music whenever you're not watching TV. Pretty versatile and it costs less than some portable Bluetooth speakers.
[EXPIRED] Anker Soundcore Life Q10 Wireless Bluetooth Headphones
On the personal audio front, Anker is offering a great discount on its wireless Bluetooth over-the-ear headphones, the Soundcore Life Q10. They have amazing battery life, good sound and the design is quite cool as well. With the Amazon Prime Day deal they're dirt cheap too, so there's barely a reason not to get one!