Anker discounts on Prime Day 2022: recap of deals
We may earn a commission if you make a purchase from the links on this page.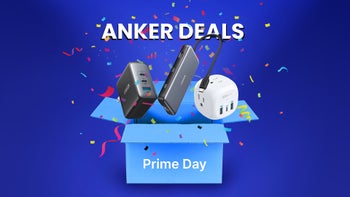 We often lurk around during
Prime Day
, looking for various deals and bargains. And, over the years, we've learned that we can definitely expect discounts on small gadgets, accessories like chargers and stands, and various tidbits that work in tandem with your smartphone.

Anker is a company that makes products we love to recommend. They offer quality at very affordable prices and is often the choice when going for wall plugs, connectors, charging pads and such. Especially nowadays when phones often ship without chargers, cables, or earphones — go green!
With Prime Day now gone, we are still keeping a recap list of the discounts that were — just so you know what to expect in future sales events!
Best Anker deals on Prime Day: recap
Anker power bank deals
Anker 337 PowerCore
A massive 26,800 mAh power bank with three separate USB outputs, all capable of delivering fast charging through Anker's PowerIQ technology (automatically sets output, depending on device). It's a pretty big battery, so it also comes with dual input ports for charging to juice it up faster.
Anker 313 PowerCore
A more modest 10,000 mAh power bank, which will still have enough juice to charge something like the iPhone 13 Pro Max back to 100% twice. Slim and portable, uses PowerIQ and Voltage Boost to deliver optimal power for fast charging.
Anker charger deals
Anker 521 40 W charger
Small, cute, powerful, and can power up to two smartphones with its dual USB C ports. If you only use it for laptops, it still outputs enough juice for a MacBook Air.
Anker 726 65 W charger
Same as above, a quick and efficient charger, that's also relatively small. It can power up your MacBook Pro, or it can juice up a phone and a tablet simultaneously thanks to the dual-port setup.
Anker 623 Magnetic Wireless Charger
A stylish-looking, cylindrical dual wireless charger. The top can flip outwards and hold your iPhone with magnets, while charging it. This reveals a second wireless charging platform below, perfectly capable of fitting your earbuds case there.
Anker 524 Power Strip
A tiny cube-shaped power strip that saves a ton of space, yet provides a lot of connection options with its 3 AC outlets, 3 USB A ports, and one USB C port. AC delivers full power, USB outs are 30 W max.
Anker 321 Power Strip
An even smaller cube with 3 full power AC outlets and 3 USB A ports that deliver 18 W of power.