Best Amazon Prime Day TV Deals 2022: what went down
1
We may earn a commission if you make a purchase from the links on this page.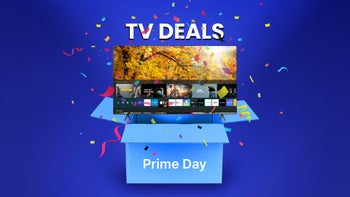 Amazon Prime Day is one of the best shopping events for the whole year, and when you're buying a TV you probably want to plan ahead. This year the shopping event was held on July 12 and 13. Amazon revealed some interesting early Prime Day TV deals weeks before the event. But the best Prime Day TV deals were not only on Amazon, but also on Best Buy and Walmart. Which of those had the best deals, what went down on this year's
Prime Day
, and how should you prepare for next year is what you'll find in this article.
The most popular TV brands in the USA are Samsung, Sony, and LG. Budget brands like Insignia and Toshiba are also pretty popular on Amazon, as they offer good value and smart features. Stay tuned for further updates on one of the biggest shopping events in the USA.
Best Samsung TV Prime Day deals
Samsung TVs were always one of the most popular on the market, so it won't be a surprise to us if you're on the lookout for one. The Korean brand has a history of producing big screens with vivid colors, sharp details, and great value for money. At this year's Prime Day, Samsung TVs saw discounts of up to $700 at Amazon and BestBuy. Expect such offers next year too, but if you don't want to wait, here are some great offers available right now:
Best LG TV Prime Day deals
When thinking about the best picture and software on a TV, LG easily comes to mind. With its amazing OLED screens and great WebOS features, LG TVs are one of the best you can buy. The company's OLED TVs saw discounts of up to $1,300 at this year's Prime Day. However, most of the discounts on these were between $300 and $500. Expect similar deals this year too, and also check out some current ones below:
Best Sony TV Prime Day deals
Sony is a brand with a long TV history. It as established itself as one of the best in the segment, and its TVs are running Android, which is a key advantage for the fans of the software. These also often deliver better audio than the competition. At Prime Day Sony TVs saw huge discounts of up to $700 for its more expensive models. Cheaper models also saw pretty good discounts of around $300 to $500. But there are deals on Sony TVs even now, however, if you want to save more, you better wait for Prime Day or
Black Friday
.
Best TCL, Insignia, and Toshiba TV Prime Day deals
Now let's move on to budget TVs. These are great as a second TV for your bedroom or kitchen, or wherever else you might want to put one. If you're someone who isn't a TV enthusiast, this could be good as your main TV too, especially if you're someone who's rarely sitting on the couch for hours. In recent years three brands have established themselves as the most popular cheap TV producers. These are Insignia, Toshiba, and TCL.
The first two of these are powered by Amazon's Fire TV system, while the latter runs Roku TV, which is a great TV interface. Don't be shy to check out some current deals on such devices above, as cheap TVs often see more minor discounts on Prime Day compared to the more expensive models. Budget TVs often see discounts between $50 and $200 on Prime Day, however, at this year's event some big budget TVs saw discounts of up to $600.