Amazon announces Prime Day 2018: Brace yourselves for millions of deals!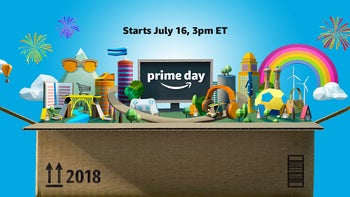 Lo and behold, Amazon is gearing for yet another Prime Day in less than two weeks' time, and if our past experiences are anything to go by, Prime users will be able to sweetly make use of tons of spectacular deals on a plethora of different products.
This year's Amazon Prime Day kicks off July 16 at 12PM PT (3PM ET) and will last through 12AM PT on July 17 (3AM ET on July 18).
Amazon boasts that this Prime Day will feature well over a million deals which will be exclusive for Prime members. What's more, Spotlight Deals will be 50% more than last year's Prime Day ones. What's more, Amazon will also kick off twice as many
prime day deals
on its own hardware products as it did last year -just the perfect time to get that Amazon Echo, a Fire TV, a Fire tablet, or that Kindle you've been lusting after.
Said Jeff Wilke, Amazon CEO Worldwide Consumer: "New this year, members can shop exclusive Prime Day Launches from hundreds of brands worldwide, enjoy exclusive savings at Whole Foods Market and experience surprise entertainment events unboxed from giant Smile boxes in major cities. More than 100 million paid Prime members around the world will find our best Prime Day celebration yet."
Starting today, Amazon will reveal a slew of deals every day leading to this year's Prime Day. Here's the first leg:
Echo Show – Save $100 on Echo Show, which brings you everything you love about Alexa, and can show you things. Make video calls or watch video flash briefings, movies and TV shows, see music lyrics, smart home cameras, photos, weather forecasts, and more. All hands-free—just ask.
Amazon Brands – Find our lowest prices on products from collections available exclusively on Amazon, including up to 25% off furniture and décor from Rivet and Stone & Beam, up to 20% off AmazonBasics items, and 30% off everyday essentials from Presto!, Mama Bear and Solimo, among others.
Prime Video, DVDs and Blu-Ray – Save up to 50% on popular movies and TV shows on digital, DVD and Blu-Ray.
Amazon Music – Prime members who haven't yet tried Amazon Music Unlimited can get four months of the premium, on-demand service with access to tens of millions of songs and hands-free listening, for just $0.99.
Twitch Prime – Members can enjoy hundreds of hours of free gameplay as Twitch Prime gives away a free PC game every day through July 18, including titles like Pillars of Eternity and Brutal Legend. Members will also receive exclusive in-game loot for Warframe and PLAYERUNKNOWN'S BATTLEGROUNDS.
Kindle Unlimited and eBooks – Prime members who haven't yet tried Kindle Unlimited will have access to three months of unlimited reading for just $0.99. Buy your first Kindle book and get a $10 Prime Day credit valid towards eBooks, print books and Audible.
Audible – Eligible Prime members can get their first three months at more than 65% off for $4.95 a month.
source: Amazon