ZUK Z1 hands-on
7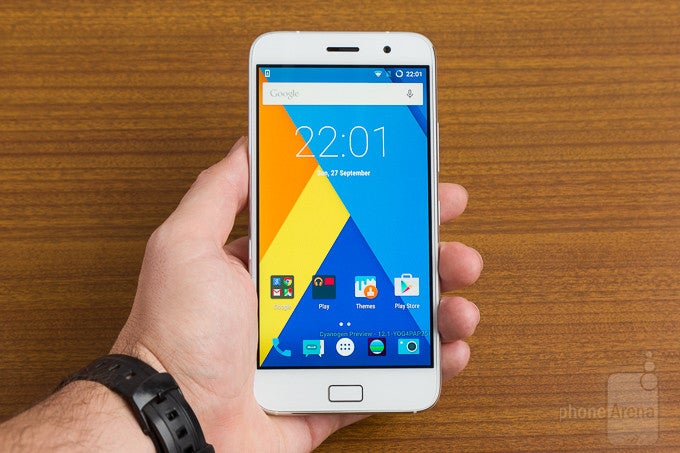 This story is sponsored by ZUK. PhoneArena's opinions in this article have not been affected in any way!
Getting an off-contract smartphone costing $300 is anything but difficult. Plenty of models hovering around that price point are on sale by both well- and lesser-known brands. Finding a $300 smartphone that's actually good, however, could be quite a challenge. Does the ZUK Z1 have what it takes to fit that description?
ZUK, in case you haven't been following the news, is a brand conceived by Lenovo in early 2015, and the Z1 is the first smartphone to be announced under the new name. It aims to strike a good balance between design and hardware specs, all at a very attractive pricing. And we happen to have one right here at the office – a prototype that we've been given the chance to test drive. Below are our initial, hands-on impressions.
ZUK Z1 Smartphone
Wall charger (Output: 5V, 2A)
Tangle-free USB Type-C to USB Type-A cable
SIM ejector tool
Warranty information papers
Design
The ZUK Z1 isn't a smartphone that stands out. At a glance, it is your typical flat rectangle with corners curved for a better grip. But then again, we're getting the feeling that the handset isn't designed to draw attention from afar. And we're okay with that, to be honest. The Z1 is made with minimalism and practicality in mind, with no superfluous design elements to distract us.
We're glad to say that the ZUK Z1 is put together rather well. The solid metal frame is nicely rounded, while its chamfered edges make for a smooth transition between the glass panel at the front and the plastic back plate. Overall, the handset feels okay in the hand and is of acceptable proportions given the 5.5-inch diagonal size of the screen and the 4,100mAh capacity of its built-in, non-removable battery. It is neither too light, nor too heavy, although we can't imagine it fitting well in pockets of tight, skinny jeans.
Two are the colors the ZUK Z1 is launching in – white and a very dark shade of gray. While the back, made of glossy plastic, attracts fingerprints, they're mostly unnoticeable due to the white color of the back plate. At least that's the case with the demo unit we have on hand.
On the right side of the ZUK Z1 we find its power and volume keys. For consistency's sake, they're made of metal, just like the handset's frame. They work well, although a bit more travel would have been welcome. Below the screen we have a physical home key that is rather stiff, but not annoyingly so, and a fingerprint scanner is built right into it. The key is situated between a pair of capacitive buttons – the left one displays our recent apps, and the right one takes you back a screen.
What makes the ZUK Z1 different from the majority of its competitors is the presence of a USB Type-C connector at its bottom. It is reversible, meaning that the cable goes in either way.
Display
A huge asset in the ZUK Z1's arsenal is its display. Measuring 5.5 inches in diagonal, it is of ideal size for on-the-go web browsing, for playing games, for watching the occasional web video, and anything in between. Moreover, the resolution of 1080 by 1920 pixels produces a more than adequate pixel density of 401 ppi for nice and crisp visuals. But there seems to be a catch. Although the screen is supposed to be of the IPS LCD variety, we're noticing a slight motion trail behind moving objects. Could the prototype nature of our demo unit be to blame for this?
Interface
The ZUK Z1 runs Cyanogen OS 12.1, which is based on Android 5.1.1. We can't comment on the software's performance as it is clearly in prototype form, judging by the occasional glitch here and there. We're also finding it hard to comment on the UI's appearance – while our demo handset has a stock Android look and feel, the interface shown on the company's website appears to be skinned differently. Still, we feel okay with highlighting a few noteworthy additions to the software. One of them is the presence of themes – applying one replaces app icons, tweaks color accents, and modifies other UI elements. On the lock screen we find Android's handy camera and dialer shortcuts at the bottom corners. We also came across a built-in equalizer, which is a welcome bonus.
Processor and memory
It seems rather odd to see a phone launching in 2015 with a SoC from 2014. Yet that's what we have inside the ZUK Z1 – a Snapdragon 801 (MSM8974PRO-AC) with a 2.5GHz maximum clock speed. That's the same chip that the now-18-month-old Galaxy S5 launched with. But going with a tried-and-tested high-end SoC over a new mid-range one could have actually been a wise move. Firstly, the Snapdragon 801 is still a relevant piece of silicon. We're expecting it to have the power to get through every-day tasks and casual gaming with ease. And we're guessing that the use of an older SoC has allowed the ZUK Z1's price to be kept low. Besides, synthetic benchmarks indicate that the Snapdragon 801 has more processing punch than its mid-range counterpart, the Snapdragon 615. The 801's weak spot, however, could be power efficiency, as it is built on an older, 28nm process.
With 3GB of RAM (LPDDR3, 1866MHz), the ZUK Z1 should provide adequate multitasking performance. And while there's no microSD card slot present, the on-board storage should be plentiful for all but the most demanding of users. A generous 64 gigabytes come on board – enough for tons of photos, videos, apps, and games.
Camera
The ZUK Z1 has a promising, 13MP main camera (at 4:3 aspect ratio) with a Sony Exmor RS image sensor. It features a 5-element lens and a wide enough aperture of f/2.2. Providing extra light when it is needed is a dual-LED flash. And on the front of the smartphone resides a 5MP camera for selfies.
While we wouldn't comment on the quality of images taken with a prototype phone, we can say a few words about the camera app. The UI isn't pretty, some buttons are too small to be used comfortably, and the scene selection menu is confusing to use. It gives you manual control over the exposure, ISO, and level of JPEG compression, but more advanced manual controls are lacking. You get a panorama mode, a number of scenes, and various effects that you can apply to your image. Keep in mind that the final form of the Z1's camera app may end up looking different than what we're seeing here on our prototype unit.
Battery life
In a world where high-end phones rely on batteries of 3,000mAh or so, the ZUK Z1 lands packing a 4,100mAh battery. By comparison, high-ends like the Samsung Galaxy Note5 and the LG G4 rely on 3,000mAh cells, while the iPhone 6s Plus has an even smaller, 2,750mAh battery. That is why we have high hopes for the Z1's battery life. On the other hand, the time a phone lasts between charges also depends on how it is used, how it is configured, and how efficient its hardware components are. And as we mentioned above, the Snapdragon 801 might not be as battery-friendly as some newer SoCs. Of note is that the bundled charger provides up to 2 amps of current at 5 volts and might take a while to top-up the Z1's battery.
Expectations
They say that the first impression matters most, which is why the ZUK Z1's launch will surely have a considerable impact on the brand's future. Failure isn't an option if the ZUK brand is to succeed. And while the ZUK Z1 feels rough around the edges, it might turn out to be not that bad of a deal given its $320 pre-order price. Android purists may be delighted to know that the phone will ship with Cyanogen OS 12.1, which should have a pronounced stock feel to it, with only a handful, but meaningful additions to the software experience. The SoC could be nearly 2 years old – an age in the realm of smartphones – but in a way, the hardware under the Z1's hood is adequate, especially with those 3GB of RAM and 64GB of on-board storage. And the screen is large enough to ensure comfortable web browsing and media consumption experience. All in all, the ZUK Z1 is shaping up as a decent mid-range phone, but our final verdict will be drawn once we get to take it through a full review treatment.
Hands-on unit provided by ZUK.