Worldwide Outage Reported for BlackBerry Internet Services
This article contains unofficial information.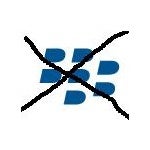 Those of you who are users of the BlackBerry Internet Service (BIS) might be frustrated at this point. But before you throw your Storm or Bold or Curve at a brick wall, you need to realize that this is not just happening to you! BGR says they have heard from a few BIS users across different carriers that the service is down. It already has been a few hours and the estimate is that 75% to 80% of users are not online at present. If you are a BIS user, let us know if you are in the majority that is out of service for now, or if you are in the lucky minority that has service.
source:
BGR