World music experiment connects phones from all over the world at the same time
2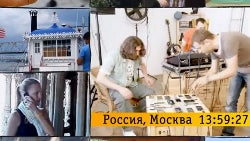 We've stumbled across this ad promoting the roaming service of Russian carrier Beeline, and it's probably the coolest experiment we've seen in a while. In it, people check in from different countries across the globe to create one beautiful melody from city sounds, and you wouldn't believe how awesome the result is.
Of course, the idea is to show just how many countries that carrier supports roaming in, but it's also a beautiful demonstration of what can happen when people across the globe collaborate.
Interestingly, the makers say it's all completely authentic, with absolutely perfect timing. The video was shot at 2pm local Russian time and that means that in other locations the time is different and that explains the fireworks on the night sky at the end and all other locations. Check it out below!
source:
Beeline
Recommended Stories